We offer dedicated desks (just for use by you) within studios with limited residents (we have reduced capacity and rearranged our layout to ensure social distancing and minimise numbers), and private office workspaces.
Private Workspace
We currently have one private workspace available from the start of July. £315 per calendar month all inclusive (rates, utilities, broadband, 24 hour access and use of meeting rooms and communal facilities)
Get in touch  or email christine@blickstudios.org for more information or to arrange a viewing
---
Dedicated Deskspaces
No spaces currently available.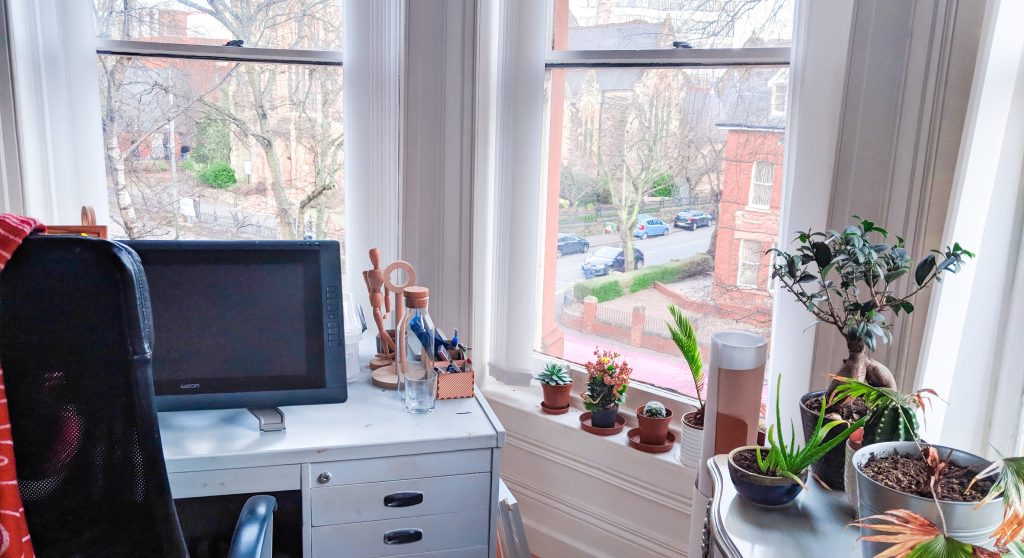 ---
Eligibility
The vision of Blick Shared Studios is to focus on the needs of creative industry businesses.  We want to help the creative industries grow in Northern Ireland, to be eligible for taking workspace within Blick you need to be working within the creative industries. Falling within the UK's definition of the creative industries – 'those industries that are based on individual creativity, skill and talent with the potential to create wealth and jobs through developing intellectual property' – includes thirteen sectors: advertising, architecture, the art and antiques market, crafts, design, designer fashion, film, interactive leisure software (ie. video games), music, the performing arts, publishing, software, and television and radio. You will be asked to complete a short application form to ensure your eligibility before taking a space at Blick.
Please get in touch or email christine@blickstudios.org if you're interested.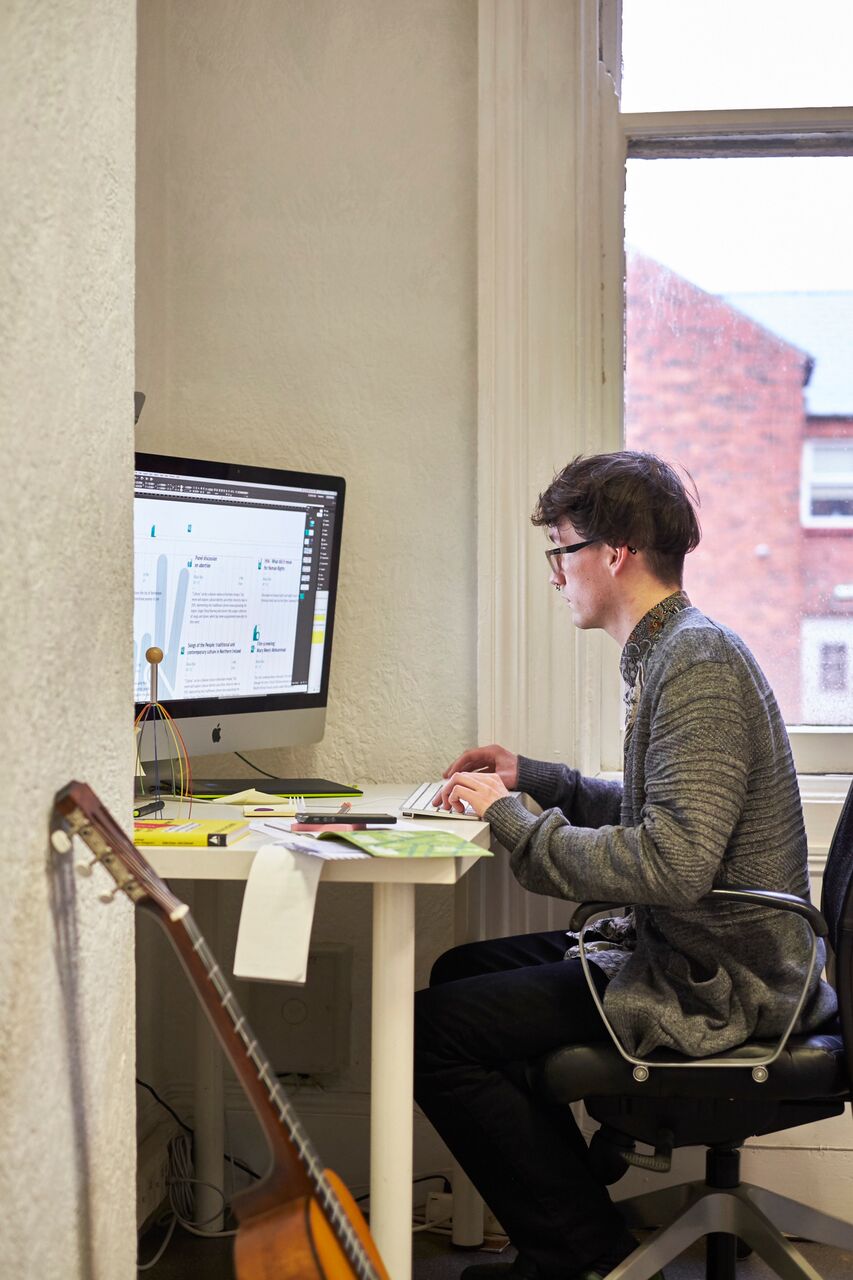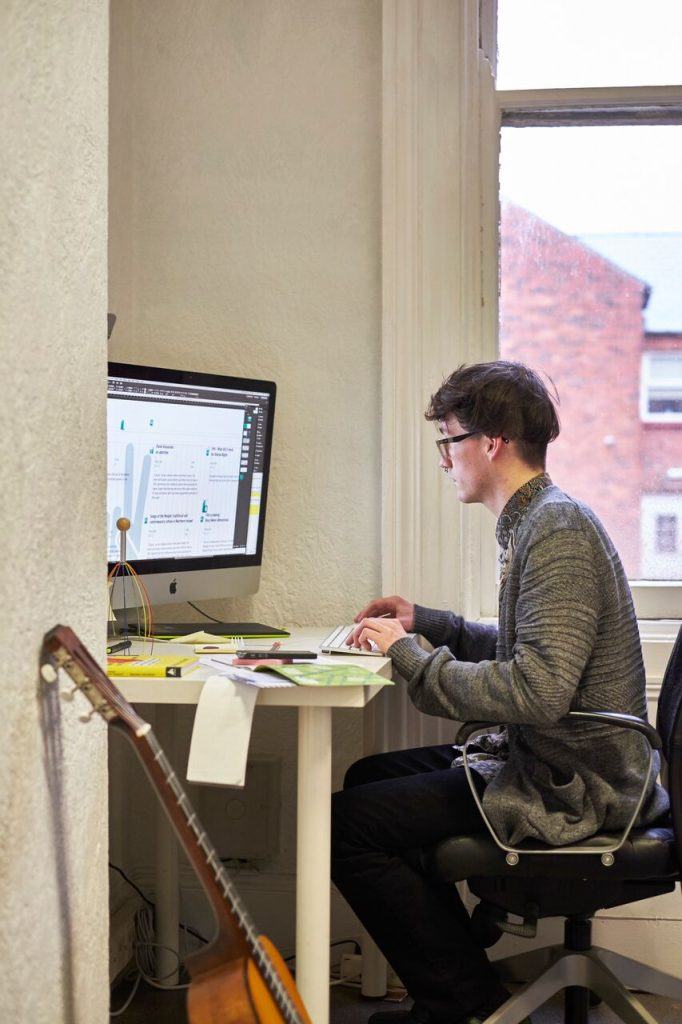 ---
The Workspace
We offer dedicated desks (just for use by you) within studios with limited residents (we have reduced capacity and rearranged our layout to ensure social distancing and minimise numbers) and private studio spaces of different sizes.
Our Malone studios, housed in a 3 storey period building in the leafy Queen's Quarter features high ceilings, original period features and large bay windows that let in lots of natural light. In these studios we offer both private and shared workspaces.
Like all of our studios the space we offer is fully serviced, flexible, furnished and affordable. Our prices are all inclusive including rent, rates, utilities, Hi-Speed Fibre Broadband and free use of the private meeting space which includes access to a plasma screen. There is also a gorgeous glass roofed atrium which can be used for informal meetings with clients, as a breakout space for staff or just somewhere relaxing to get away from your desk and get creative!
Taking a space at Blick Studios is more than just a physical space it's about meeting and working alongside like minded people, collaborating, learning and sharing experiences.
---
The Location
The studios are situated on the Malone Road in leafy South Belfast close to Queen's University, Botanic Gardens and the Ulster Museum. It is a well-lit, safe and vibrant area close to the Lisburn Road, Botanic and Stranmillis which have lots of different coffee shops and food and drink offerings.
Directions
The studios are easily accessible by car, bus, bike & foot. You'll find free on-street parking on all surrounding streets, on peak busy times it can be hard to find a space on adjacent streets, but you can nearly always get a space on Windsor Park which is only a few minutes walk up the road. It is also possible to park on the main Malone Road outside clearway times. Paid parking is available at the Wellington Park Hotel, a 1 min. walk from the studios. It is also conveniently close to local shops, restaurants, copy shops and Queen's University.  
By train or bus
Travel from your location to Belfast City Centre. If you are travelling by train, the optimal station for you to get off would be Great Victoria Street. From Belfast City Centre get a Metro bus number 8B or 8C at Donegall Square East.  Buses run regularly and can also be boarded at bus stops heading out of the city on Bedford Street, Dublin Road, Bradbury Place, University Road, and the Malone Road.  There is a bus stop directly across from Blick Shared Studios, if you are unsure of where to get off, ask the driver to alert you of the stop closest to Chlorine Gardens/Fisherwick Church.  When you get off the bus, look directly across the road and you will see Blick's big grey door. Please note that the 8A in either direction bypasses Blick and should be avoided. 
---
Workspace Prices
Our buildings are fully serviced and furnished, and our prices are inclusive of rent, rates, utilities, broadband and use of communal meeting spaces, making renting an office simple. 
Shared Workspace Prices
£150 per month per desk
£125 per month for more than one desk
Private Office space costs
Prices for our Malone Road Studios start from £325 for a small office for up to 2 people. Email info@blickstudios.org for costs of specific office spaces.
---
Why choose Blick?
Blick is a local, independent social enterprise offering affordable shared workspace, events, services and support for creatives in Belfast. Choosing Blick means your money goes to support the local economy and the creative industries in Northern Ireland.
We have over 10 years experience providing workspace for creatives. We know what we are doing and can be relied upon to provide a professional service as well as being friendly and approachable.
Our spaces have been designed by creatives for creatives and offer quiet, intimate working spaces in buildings with character and charm to allow for productivity and creativity as well as community and collaboration. We aim to keep our services as affordable as possible so don't offer free coffee/tea/ additional perks just try to offer really good service in nice spaces with nice people.
We currently have three buildings in Belfast, two in Belfast's vibrant and creative Cathedral Quarter area close to Belfast School of Art and the other in leafy South Belfast near Queens University Belfast. Both areas are lively and safe and have good access to local amenities (coffee shops, cafes, bars and cultural buildings including The Mac in the Cathedral Quarter and The Ulster Museum and botanic gardens in South Belfast).