Urban Design Challenge Exhibition – "Pocket Park Plus" The Future in a pocket
Posted: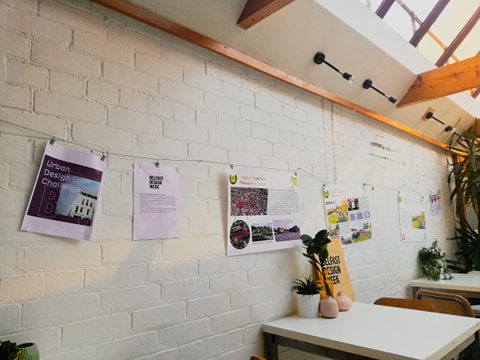 Belfast Design Week, in partnership with the Destination CQ Cathedral Quarter Business Improvement District, Blick Shared Studios and coffeenosugar, ran an urban design challenge for local students and recent graduates. Emerging designers from across Northern Ireland were invited to develop a concept or proposal for the spaces between the buildings within the Smithfield and Union area of Belfast's Cathedral Quarter Business Improvement District (CQ BID), with the successful concept being awarded a £500 prize fund and the chance to see the winning concept realised.
This unique urban design challenge asked entrants to work in groups to create a concept to make the area an inviting, welcoming and attractive space for events, activities, working, studying or living in the area.
Photographs of The Urban Design Challenge at Belfast Design Week 2019 – Photography by Chris Mckenna
The recent project that they have launched is called "Pocket Park Plus" The Future in a pocket.
An Overview –
Pocket Park Plus is an expandable outdoor park pocket with a variety of facilities. It could be anything, from a playground with swings to an interactive technology hub or sheltered areas with outdoor charging ports. They look forward to removing the divide between the Smithfield/Union Street and the main city centre, with an open green place for local communities, and upcoming university students.
In this project, they have designed an AR screen within the pocket park. The technology allows people to capture photographs of themselves in extraordinary surroundings, for example santa claus flying through the sky at Christmas time, or an alien invasion in the middle of North Street. The AR screen will be plotted at North Street bus stop, with the goal of 'immersing' passers by within the area.
Why they chose North Street Bus Stop
As we know, North Street is central in connecting West Belfast to the city centre. There is a large amount of people waiting for buses everyday, even to other cities. It is important to point out that Royal Avenue, the most popular shopping street in Belfast is just around the corner, so why would anyone want to stay on North Street?
North Street is currently not a use friendly place for children, families, students, the elderly, or anyone, but rather a route which people travel to and from. We aim for the Pocket Park and AR screen to attract people to this part of town. Norther Street will be a place to socialise and play, reintegrating the area and building connection.
The exhibition is currently in Malone Road Blick Studios which gives in-depth information about the project.
The three people that are involved in this project are :
Jaijan Chen who is studying MSc City Planning and Design at Queens. He has experience in Urban regeneration, placemaking, and community engagement, proficient in planning's software and aerial photography and video production.
Kate Wilson is studying Interaction Design at Belfast School of Art and has a passion for User experience research and building digital products.
Caireann Mcelligott is a textile designer creating patterns and repeats that are used to create energy, life, character and movements to surface.