#Meettheresident – Aaron Hickland
Posted: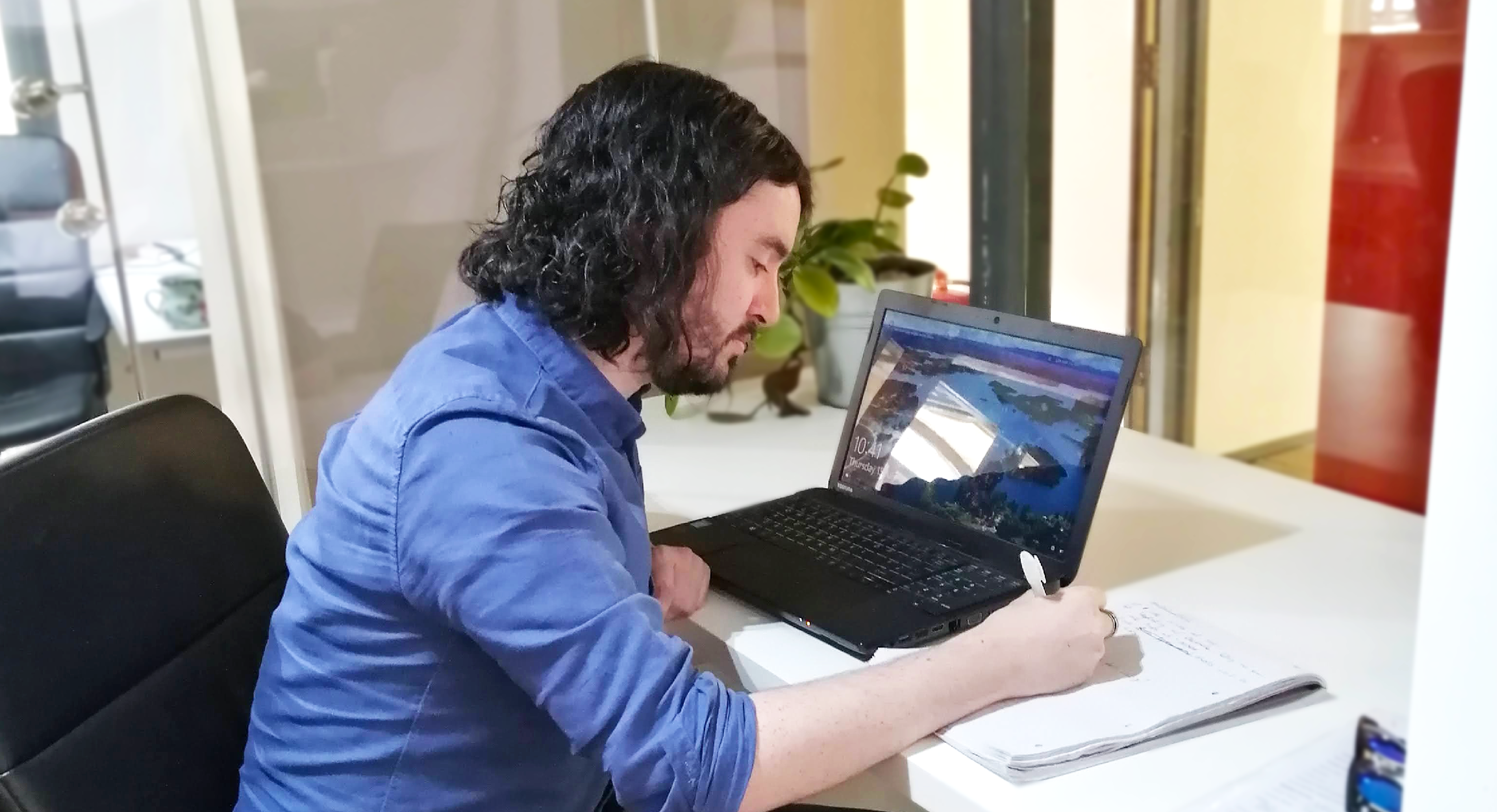 Tell us a bit about yourself and your business?
I graduated from Queen's University with a degree in Drama in 2014, and since then I've been working freelance as a performer, facilitator and writer. I trained as a clown in Toronto in 2018 and over lockdown I acted in a digital comedy show my friend Caitlin Magnall Kearns wrote, which has just been nominated for an award! Right now though, I'm being mentored in theatre and film writing and I'm really enjoying the transition. Recently, I've become really excited about projects that blur the lines between theatre, film and video games using mixed media and VR.
Any projects you're currently working on?
I'm writing my first full length play, 'Class Man' which is being generously supported by ACNI through their brilliant SIAP programme, working with Emily DeDakis from Fighting Words and Rhiann Jeffrey from PrimeCut Productions. I'm also drafting a few pilots and treatments as part of my menteeship through Future Screen's 'Future Foundation' programme; I'm being mentored by the wonderful Dee Harvey who's been showing me the ropes on all things immersive and VR! Lastly, I've been cast in a great film that's currently in development with Chaos Theory Productions. What was the biggest hurdle for you starting out and
What was the biggest hurdle for you starting out and how did you overcome it?
Maintaining persistent efforts. It's something I still struggle with from time to time; life in a creative field inevitably leads to long, sustained periods of 'you're great, but no'. Two things keep me coming back – a love for what I'm doing, and having great support. I'm very privileged to have such experienced mentors and supportive (and patient!) friends. I owe them a lot.
How do you stay creative/inspired?
Consuming media and art that I adore. Following my friends' great recommendations. Watching/reading things that are different from what I normally enjoy or that challenge my beliefs. Most importantly though, is taking some time to stop and live a life outside of my projects, because as Stephen King said "Art is a support system for life, not the other way around"
Who is your creative hero?
Gosh. Impossible to answer! Though I really wish I'd met Stephen Hillenburg before he moved on.
What piece of software/ tool/ equipment would you struggle to run your business without?
I'd love to name drop a really sophisticated piece of editing software, but honestly, my Microsoft Word went down a few weeks ago
and that was absolutely catastrophic. So I'd say that.
What's your top tip/piece of advice for anyone wanting to start their own creative business?
Find who's doing what you want to do and be friends with them.
Find Aaron's work at aaron_hickland