Resident Dani McFerran celebrated as top 100 ƒ:Entrepreneur
Posted: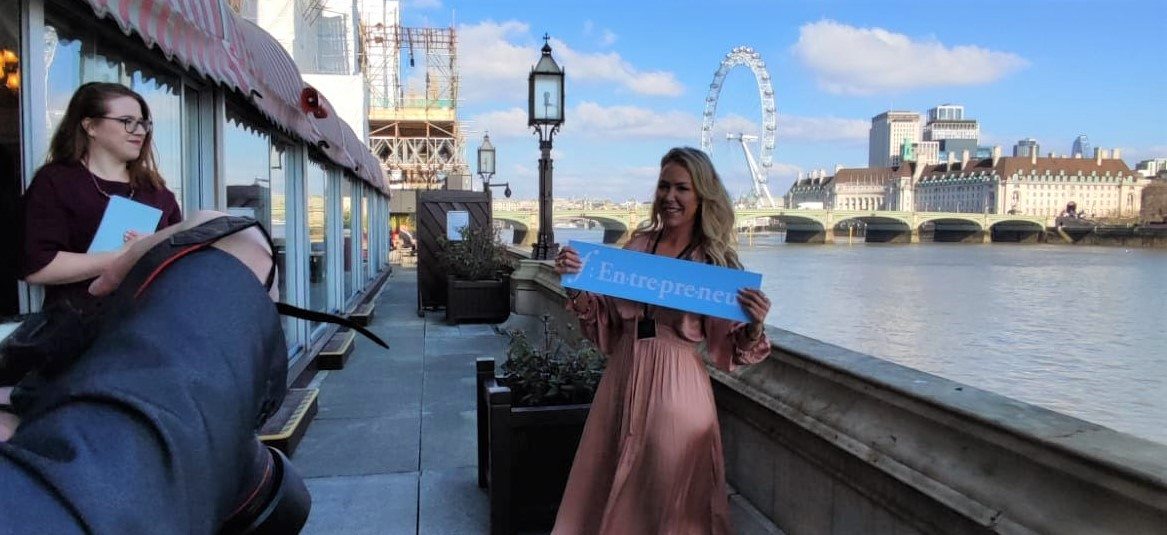 Our resident Dani McFerran, founder of award winning Graphic Design studio Done & Dusted , was celebrated for her contribution to entrepreneurship at the House of Lords to mark International Women's Day.
Inspirational female founders from across the UK gathered at the event to champion entrepreneurship.
On the 7th March 2022 Dani attended this special International Women's Day reception at the House of Lords, which recognised her and 100 others' strong contribution to entrepreneurship.
The event spotlighted over 100 impressive, multi-achieving female business owners being championed by Small Business Britain's ƒ:Entrepreneur #ialso100 campaign, which showcases the phenomenal contribution to society, economy and communities that many female founders are making across the country.
Dani was named an ƒ:Entrepreneur #ialso100 in 2022, in recognition of her inspiring entrepreneurial journey, which has involved running a business alongside a roster of other responsibilities. Dani runs an award-winning international design agency with offices in Belfast, NYC and Dubai. In lockdown, she co-founded Belfast Coffee Co and Viative CBD whilst observing commitments to her online fitness instructing.
Dani enjoyed afternoon tea and networking in Westminster, meeting peers from ƒ:Entrepreneur #ialso cohorts from both 2021 and 2022, as well as special guest speaker Labour MP Dr Rosena Allin-Khan, who paid tribute to the power of female entrepreneurship.
Dani said, "It is awe-inspiring meeting these phenomenal women from all walks of life, across all industries, achieving amazing successes. I am grateful to be a part of this amazing collective of inspiring, supportive women."
Delivered by Small Business Britain – the leading champion of small businesses in the UK –  f:Entrepreneur campaign was launched in 2017 to highlight the stories of amazing female business owners and help provide inspiration and role models across the wider small business community. Now in its fifth year, the campaign offers a host of events, training and networking opportunities to boost skills, capability and confidence.
This comes on the back of new research carried out by the campaign this month which found that following the pandemic, nearly a fifth (17%) of women are considering entrepreneurship, with 44% of them citing pursuing a passion as a key motivator, alongside 46% wanting greater flexibility.
'Being in room full of such impressive female founders such as Dani was really uplifting, especially after a tough couple of years for entrepreneurs', said Michelle Ovens CBE, Founder of Small Business Britain and the ƒ:Entrepreneur campaign
'To hear all the incredible things that these women do and the impact they are making, not just in their businesses but in their wider communities, is truly inspiring, and underlines that we must do everything we can to support them.  This profound desire among women to create opportunity out of their passions, to build businesses with mission and purpose at their hearts, and to drive forward success, despite everything thrown at them during this pandemic, is amazingly powerful. We must nurture female entrepreneurship so it continues to flourish in the UK and plays a key role in recovery.'  
To see the full line-up of the 100 amazing women featured in this year's f:entrepreneur #ialso100 campaign  visit www.f-entrepreneur.com/ialso-100-2022/
About f:Entrepreneur
Michelle Ovens CBE set up the f:Entrepreneur Campaign, which launched on International Women's Day 2017, because of the growing sense that there should be more recognition for the amazing, multi-faceted contribution of women who run so many businesses in the UK.
The goal of the campaign is to celebrate the dynamic and inspirational businesses led by women in the UK. It is aimed at both men and women, because everyone has something to learn from these stories of challenge and success.
Through events, content and storytelling, f:Entrepreneur showcases role models to help and inspire all small businesses.
About the #ialso100
The f:Entrepreneur #ialso100 will celebrate and showcase amazing female entrepreneurs from all over the UK and is brought to you by the f:Entrepreneur campaign, run by Small Business Britain.
About Small Business Britain
Small Business Britain is the UK's leading champion of small businesses, supporting the UK's 6 million small businesses, no matter their location, their sector, or their ambition level.
Through a series of campaigns, networks, training and reports, Small Business Britain champions and informs small businesses in the UK. Committed to making entrepreneurship as inclusive as possible, it brings small business owners together to foster growth and increased confidence.
Twitter: @britainsmallbiz
Facebook: @smallbusinessbritain
Instagram: britainsmallbiz