#MeetTheResident – Naomhán O'Connor
Posted: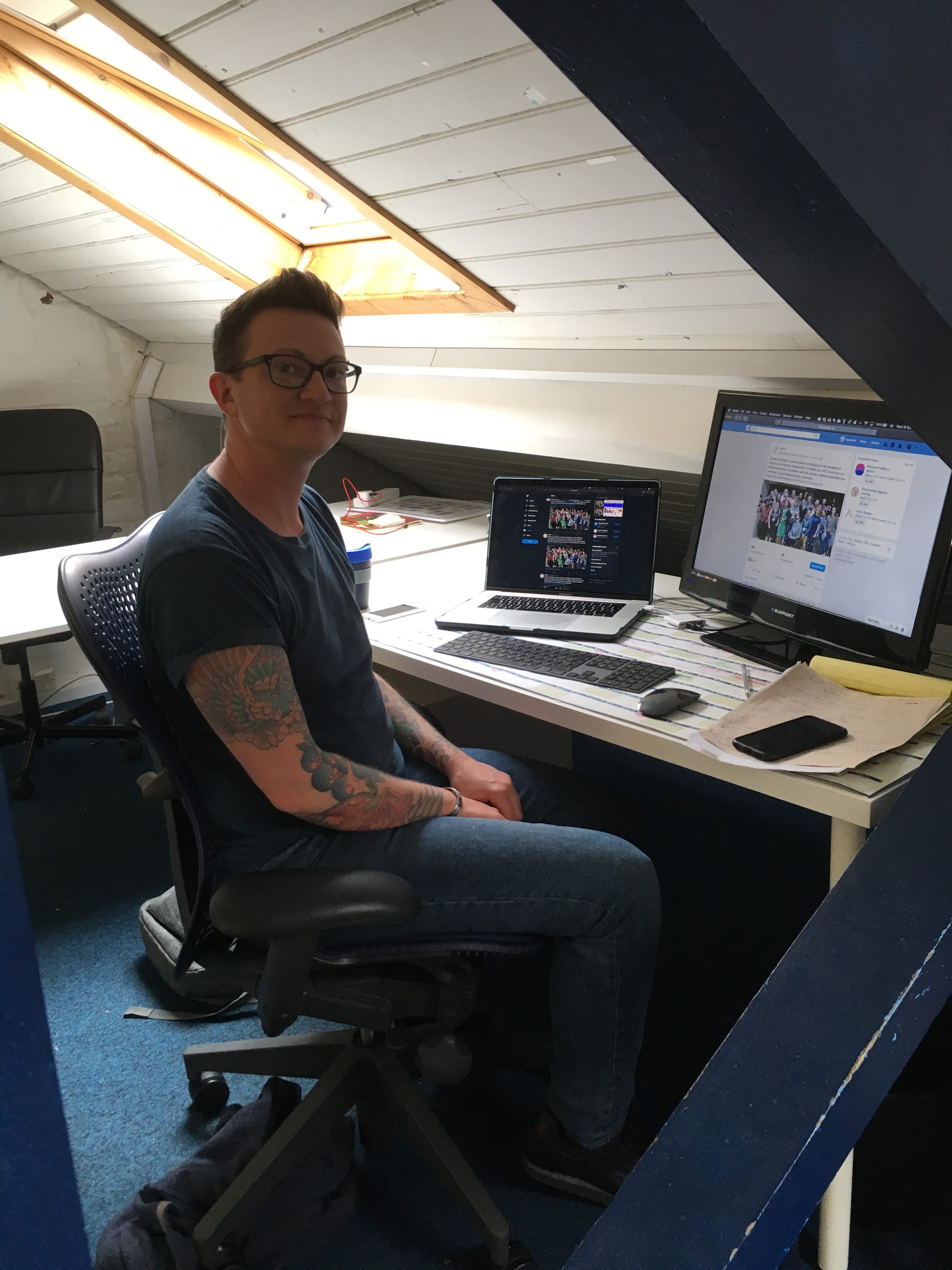 We caught up with one of our newest residents Naomhán O'Connor who has recently joined our Hill Street Blick Shared Studios.
Tell us a bit about yourself and your business?
I'm a freelance digital marketer, with a background in filmmaking. I work primarily for non-profits, managing their social media accounts, writing content for their websites, and helping them to develop, design and implement awareness-raising campaigns. This work takes up most of my time, but occasionally I take on small jobs in filming, editing and photography.
Any projects you're currently working on?
Currently, I'm engaged in a long-term contract with one organisation, GATE, and I do a variety of work for them, including social media management, filming and editing video interviews, events photography, and website content writing and management.
What was the biggest hurdle for you starting out and how did you overcome it?
I came to this career later than most, aged 28. I wanted to be a video editor, but struggled to get a paid job with an editing company, and I couldn't afford to work unpaid. After approaching every editing company in Northern Ireland, and being offered only unpaid work, I decided to try working as a freelance editor. It was a steep learning curve – building up a client list, learning how to find jobs and working out all the business side of things – writing an invoice, paying taxes, etc. I eventually found my niche – I got a chance to do some social media work and found that, combining this with editing work, I could make a living.
How do you stay creative/inspired?
I'm inspired by my clients – I like to find a vision in the work that they ask me to do, an end goal to focus on. With non-profits, it's usually awareness raising. I love being able to help organisations find the best way to give voice to underrepresented communities or issues. Storytelling is my passion, and the work of non-profits is full of amazing stories that aren't being told, so I feel privileged to be able to do something to amplify those voices.
Who is your creative hero?
I love the work of Louis Theroux, because he brings humanity to his storytelling. No matter how hated by society the community is that he's focused on, he somehow manages to humanise them. I believe strongly that everyone deserves to have a voice, and that change happens through empathy, so I love his approach to what are often extremely controversial issues.
What piece of software/ tool/ equipment would you struggle to run your business without?
My laptop! And the internet! Most of my work is online, so without these two things I can't function. For filmmaking, I couldn't work without my camera, tripod, microphone, Adobe Creative Suite… the list goes on.
What's your top tip/piece of advice for anyone wanting to start their own creative business?
Be prepared to struggle for a few years. If you can't cope with the idea of not knowing where your next job is coming from, then be open to the idea that being self-employed might not be for you. I had a list of clients I would contact on a weekly basis for the first few years, asking if they had work for me. Be prepared to put yourself out there, be prepared for many, many rejections, and don't be afraid to keep asking for work. Persistence pays off!