#Meettheresident – Tom Mathews
Posted: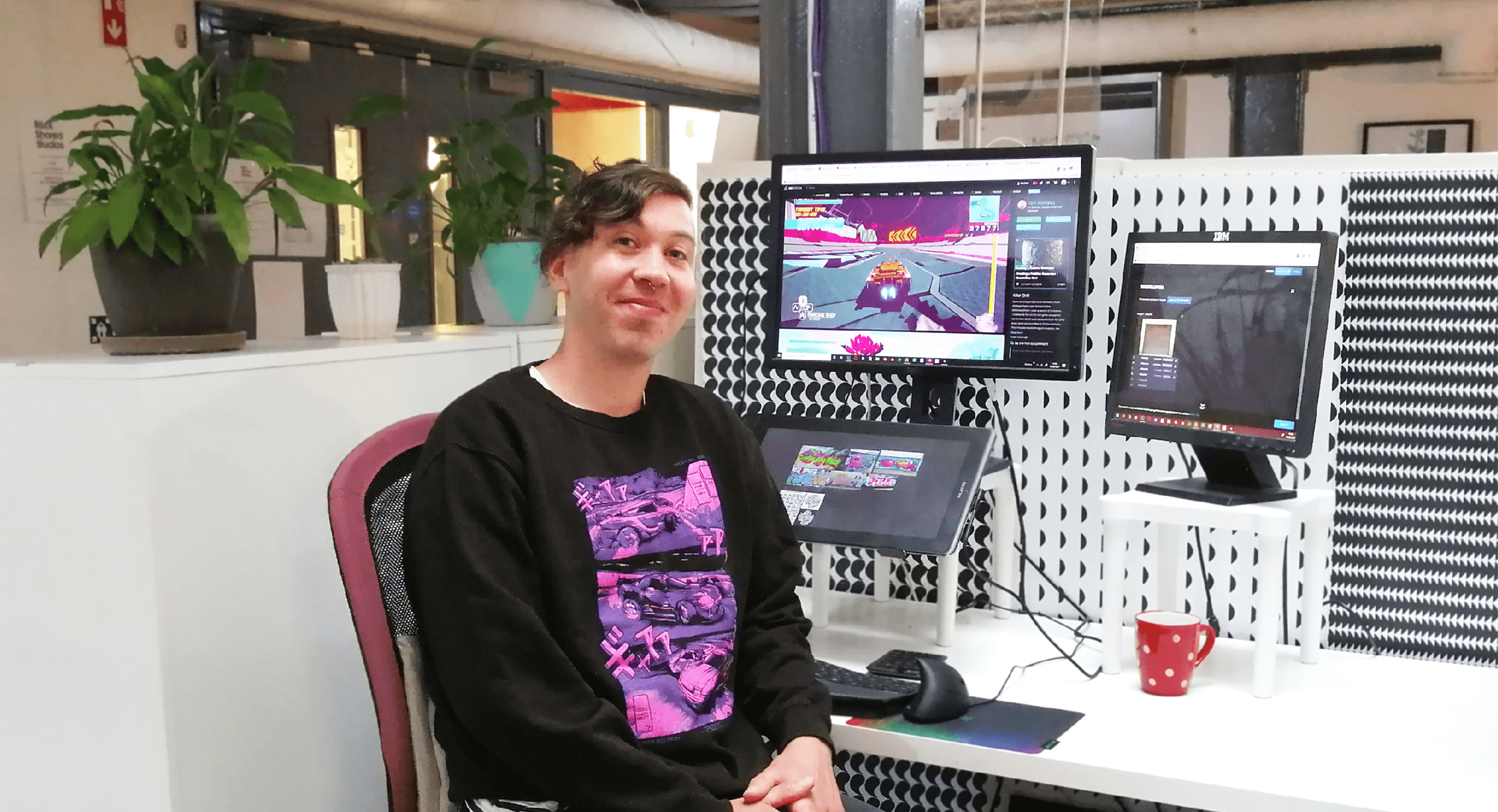 Tell us a bit about yourself and your business?
I'm a digital artist and animator with a focus on video games and interactive software. I'm currently working with Level 91 Entertainment who are based here in Northern Ireland.
Any projects you're currently working on?
Last year we released our first game 'Inertial Drift' on PC and all major consoles which was a really big deal for us. After that I took some time off to upskill and do some other freelance work and now, I'm back working with Level 91 but I can't say much more than that at this time.
What was the biggest hurdle for you starting out and how did you overcome it?
Video games are really complicated and complex and I'm mostly self-taught.  Getting to a point where I felt my skillset was broad enough that I could work comfortably took a long time. Even now I'm constantly trying to learn and improve in order to speed up my workflows and processes so I can relax more!
How do you stay creative/inspired?
I try to engage in other hobbies and activities that aren't based around my computer and where I don't hold myself to as high a standard as I do with my work. I recently started aggressive inline skating which has been really fun and a good way to relax.
Who is your creative hero?
I don't think I have a creative hero but I do have some very nice and talented friends that I am very fond of and enjoy being creative with!
What piece of software/ tool/ equipment would you struggle to run your business without?
Photoshop, blender and Unity for game development.
What's your top tip/piece of advice for anyone wanting to start their own creative business?
Ergonomics are super important! Early in my career I developed a repetitive stress injury from overworking with a bad setup. It took me a long time to recover from and still gives me problems to this day. Try to look after your body!
Also, if you're a junior artist trying to get a foothold in an industry try to make sure there is a more senior artist in a company when you join as they will hopefully be able to offer valuable critique and help you develop your skills. Looking back, I wish I'd had a mentor to help give more direction on some of my earlier projects.
Find Tom's artwork on Art Station and Twitter @NinjaMonkeyTom