#Meettheresident – Autumn Aurelia
Posted: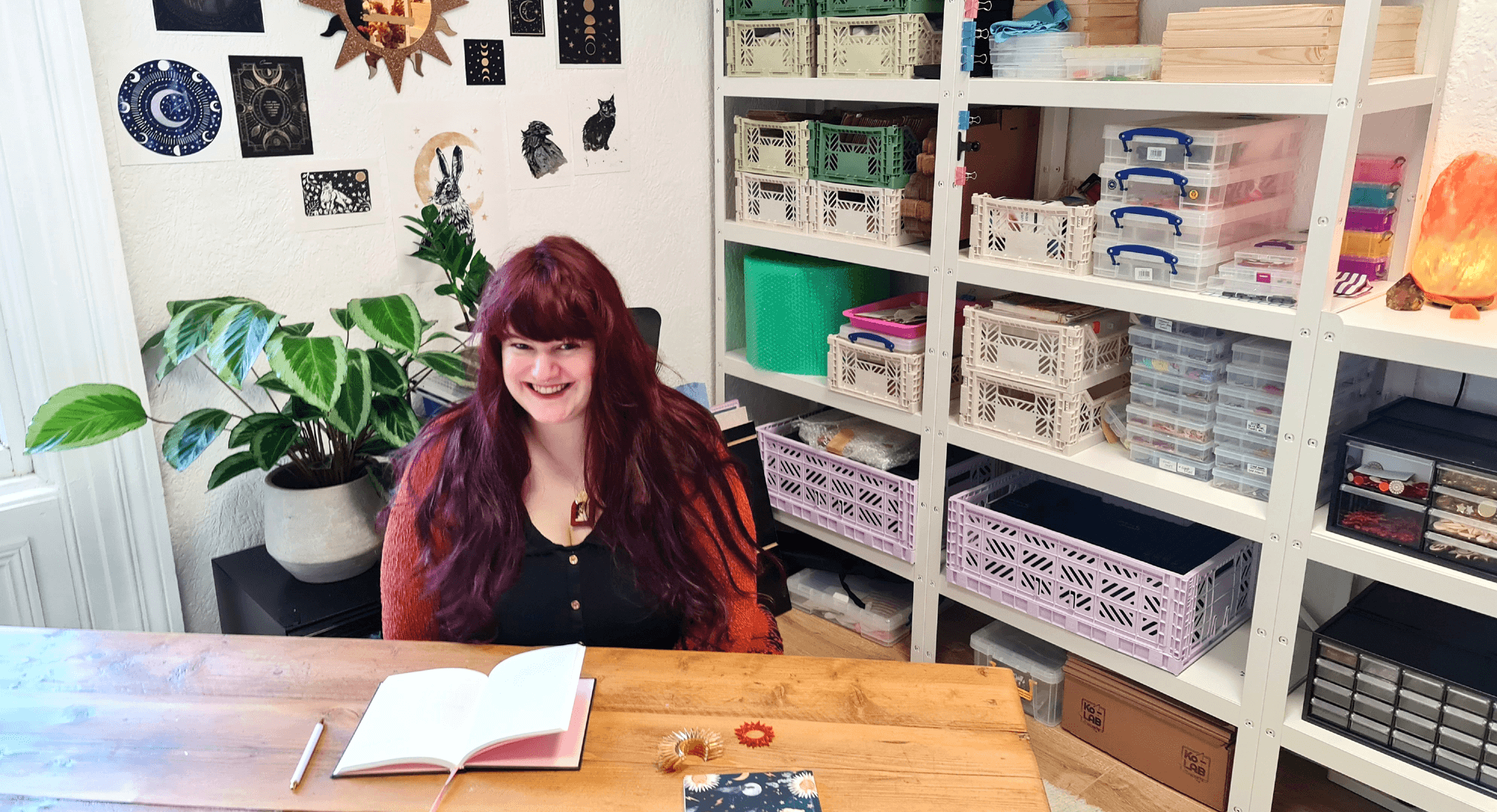 Tell us a bit about yourself and your business?
My business was essentially born from my lengthy battle with complex post-traumatic stress disorder. I'd been completely unable to leave the house alone for around eight years and was becoming increasingly depressed as a result.
Mostly, I couldn't handle the pressure of needing to get better quickly so I could go out and get a job. Society generally doesn't make space for those who need accomodations, whether they be for mental illness, chronic illness or disability.
Toward the end of those eight years, I discovered a love for laser-cut acrylic jewellery. I absolutely adored how these colourful creations were like wearable pieces of art. They were also conversation starters when I struggled with social anxiety and leaving the house. People would ask me about the jewellery and I found it was an easy thing to talk about.
Slowly, I realised how much I wanted to try creating my own jewellery and a few months after that, I started my business.
Having this business has helped me grow tremendously. While I still live with C-PTSD and am unable to leave the house alone, I'm now in trauma therapy, I leave the house most days to work in the studio I share with my partner, and I'm generally just in a much healthier, happier place.
I talk about mental health a lot on my Instagram and I'm finally proud of my story. For a long time, I felt ashamed of being unable to leave the house, of not working. I felt like a burden to everyone around me, but I realise now that I was at my lowest point. I'd been through multiple traumas, stacked up one after the other, and no matter how hard I tried to fight it, I realise what I needed at that time was to just let myself breathe.
Now that I'm on the other side of those traumas, I'm learning how to process them, one by one, and in doing so, I'm able to tell my story as part of my work. Everything I create comes from a place of hope, love, and healing, and I'm honoured I get to share that with the people who support my work.
Any projects you're currently working on?
Right now, I'm mostly just trying to prepare for Christmas as it's usually my busiest time of year, but it's hard to gauge just how busy it will be this year as sales have been incredibly slow for many makers since everything started opening back up again.
In the meantime, I'm in the process of sketching some designs for my first collection of 2020.
What was the biggest hurdle for you starting out and how did you overcome it?
Uff, honestly, there were a few. I didn't have any prior knowledge of how to create jewellery and while I've always been drawn to creating, I don't have any education in art or design past A-Level art. I also needed to learn to use Adobe Illustrator to prepare my designs for laser cutting. I did try to teach myself, but when it became too difficult, a fellow maker was kind enough to offer to teach me everything I needed to know.
That lack of experience causes a lot of anxiety at times because I often feel like a fraud when it comes to designing. I learn as I go most of the time, so if I don't know how to create something, I'll watch videos on Skillshare or YouTube, but maybe that's how we grow as creatives.
The other major hurdle is most definitely my health. Living with chronic physical illness (fibromyalgia and endometriosis) is incredibly unpredictable. I'm lucky that I work for myself, so if I'm experiencing a flare-up, I can stay in bed for a few days, rest up for as much as I need, and get back to work once it calms down.
The other issue I have is pacing: I have a tendency to overwork myself because I live in fear of when the next flare-up will hit, so I'm constantly trying to make use of the time I'm well enough to work. I very recently made a huge breakthrough with one of my illnesses, which has meant I'm now able to work on my business a lot more, but I'm still learning how to navigate life with chronic illness and working for myself.
How do you stay creative/inspired?
Because my work is often inspired by nature, I find most of my ideas come to me while walking or browsing nature accounts on Instagram/Pinterest.
Who is your creative hero?
I have too many to choose just one. Maybe I can mention two?
My fellow laser-cut acrylic jewellery makers, Lou Clarke and Rosa Pietsch. Both create such unique jewellery and homewares and I've loved watching their styles develop over the years.
What piece of software/ tool/ equipment would you struggle to run your business without?
I couldn't make jewellery without a laser cutter. I don't yet have one of my own as they're a big commitment (I've heard they require lots of maintenence and repairs are expensive!), but for now, I send my files away to Slice, a laser cutter based in England.
What's your top tip/piece of advice for anyone wanting to start their own creative business?
Despite my own creative anxiety and struggles with imposture syndrome, I would urge anyone who wants to persue a creative career to start creating. Don't wait until you have X piece of equipment or until you can afford to take a course (check out YouTube and Skillshare), or until you feel "good enough." Honestly, I don't know any creatives who actually feel good enough, even those who have been doing it for years. We all seem to question our abilities and creativity, but it's when customers share your work on their posts that it really hits you: I get to create things that people are actually wearing in their day-to-day lives. That is always such a joyful, but highly surreal feeling.
Follow other makers/creatives on Instagram as a lot of us share process videos, from which you can pick up a lot of tips.
Where can we find you? (website, instagram etc)
I mostly post on Instagram these days and my work can be found on my Etsy.