Due to Covid-19 there may be some changes to how we operate room hire at Blick – please get in touch if you are interested in booking a room.
We have two rooms available to hire in our 51 Malone Road, Belfast premises. Our Main room for up to 50 people for events, workshops and classes and our Meeting Room for up to 10 people. Both rooms are situated off our lovely glass roofed atrium which can be used to gather for events or as a breakout space during events.
Main Room
This room is best for classes and workshops, rehearsal space, large meetings, lectures and talks, as well as launch events, training and demonstrations. The room can be set up with or without furniture and plasma screen and free wifi is available throughout.
This room seats 15 as a Boardroom, 30 as a Lecture Theatre, and about 50 people standing.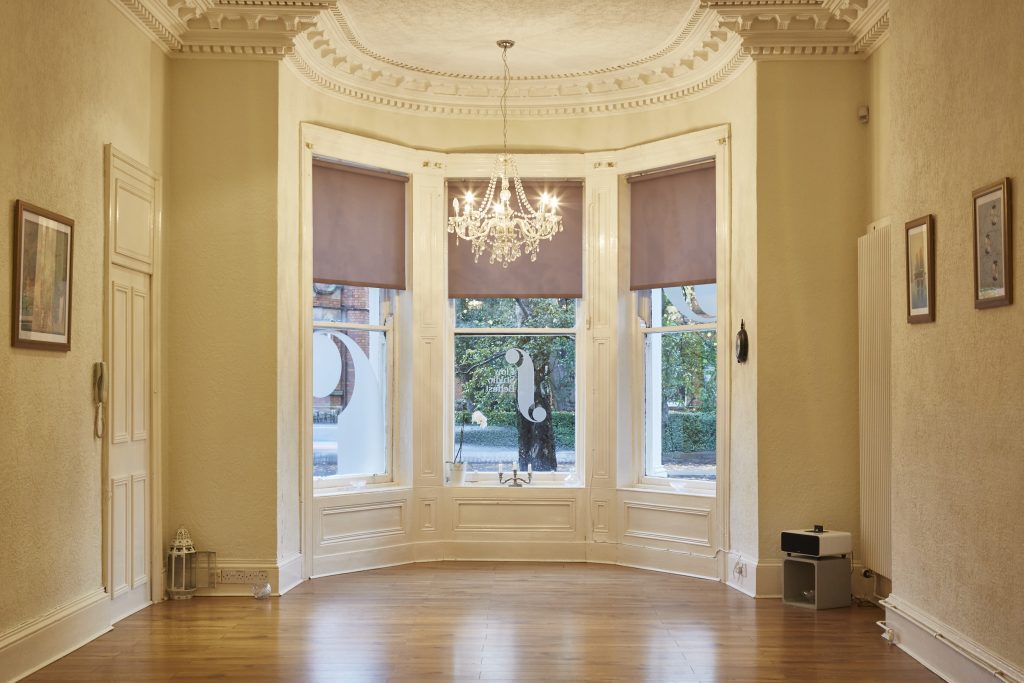 Main Room Price List
| Time Slot: | Fee per hour: | Fee per day/evening: |
| --- | --- | --- |
| Individual/One-off daytime booking (9.00am - 5.00pm) | £25 | £100 |
| Regular/Block daytime booking (2 or more sessions) (9.00am - 5.00pm) | £15 | £90 |
| Individual/ One-off evening booking (5.30 - 9.30pm) | £30 | £75 |
| Regular/Block evening booking (2 or more sessions) (5.30pm - 9.30pm) | £20 | £60 |
Please
contact us
for weekend prices.
Meeting Room
Our Meeting Room is configured in a boardroom layout and can seat up to 10 people. This room is perfect for teaching one on one or small group classes, small meetings, presentations and interviews. There is also a plasma screen available to use for a small fee and free wifi available throughout.


Meeting Room Price List
Time Slot:
Fee per hour:
Fee per half day:
(9am-1pm or 1pm - 5pm)
Fee per day/evening:
Individual booking
(9am – 5pm)                                            
 £15
£40
£75
Regular/Block daytime booking
(2 or more sessions) (9am – 5pm)                  
 £10
£35
£65
Individual booking
(5pm – 9pm)                                            
£20
N/A
£50
Regular/Block evening booking
(5pm – 9pm)                    
£10
N/A
£40
Please contact us for weekend prices.
Equipment & Services
You may hire additional equipment whilst using our facilities, please ask for further information on prices.
Data Projector and Screen
Plasma Screen
Flipchart (including paper and pens)
Whiteboard
Catering
Our catering costs are as follows (pp is per person):
Scones: £2.50 pp
Sandwich Platters: £4.50 pp
Salad Boxes: £6.00 pp
Fruit Platters: £2.50 pp
Brownies: £2.50 pp
Tray Bakes: £2.50 pp
Bottled Water £1.50 pp
Tea and Coffee: £2.50 pp
Blick Meeting and Event Space accommodates a variety of businesses, charities, voluntary organisations, facilitators, trainers, private tutors, educational bodies, artists, therapists and recreational clubs with meetings, conferences, courses, exhibitions, demonstrations, gigs, promotions, launches, workshops, yoga, dance and more!
Why choose Blick?
Blick is a local, independent social enterprise offering affordable shared workspace, events, services and support for creatives in Belfast. Choosing Blick means your money goes to support the local economy and the creative industries in Northern Ireland.
We have over 10 years experience providing room hire services for creatives, We know what we are doing and can be relied upon to provide a professional service as well as being friendly and approachable.
Our spaces have been designed by creatives and offer beautiful spaces for events and workshops within buildings with character and charm. We aim to keep our services as affordable as possible so don't offer free coffee/tea/ additional perks just try to offer really good service in nice spaces with nice people.
We currently have three buildings in Belfast, two in Belfast's vibrant and creative Cathedral Quarter area close to Belfast School of Art and the other in leafy South Belfast near Queens University Belfast. Both areas are lively and safe and have good access to local amenities (coffee shops, cafes, bars and cultural buildings including The Mac in the Cathedral Quarter and The Ulster Museum and botanic gardens in South Belfast).