Share 6 : Made in Northern Ireland
Date: 07/11/2017 (6:30pm) | Location: Blick Shared Studios, 46 Hill Street, Belfast, Northern Ireland, BT1 2LB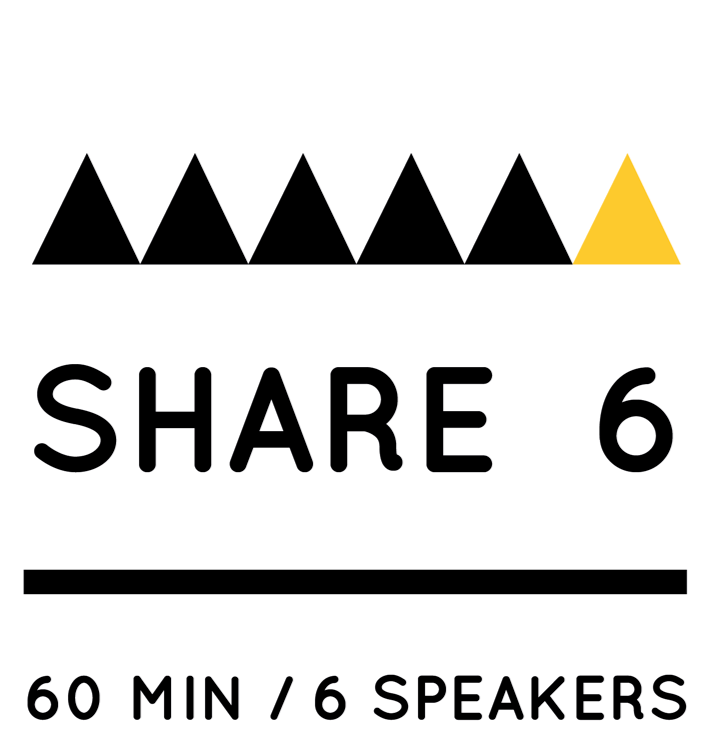 Northern Ireland has a rich history of making – from shipbuilding, to rope works and linen – but there's a new type of maker culture emerging. From the contemporary craft scene, to the DIY scene, the digital startup scene and beyond, Share 6: Made in Northern Ireland seeks to explore the latest and most interesting things happening in maker culture here, "on our doorstep." At Share 6, speakers share their stories for 10 minutes each, focusing on a particular theme.
Speaker Number One:
Our first speaker is Jordan from Jaunt. Jaunt is a social travel app that actively encourage users to collaborate on each stage of their travels. Travel companies are very good at selling you a sightsee experience, they market the destination and hook you up with a 'concierge'. If you want to meet a willing local you would have to put out a post on traditional social media, find a forum or approach complete strangers. Jaunt removes the awkward barriers for the traveller who wants more than the standard sightseeing tour.
Jaunt is just about to launch their Android app into an early stage beta with the help of an Android scholarship from Google earlier this year.
Speaker Number Two:
Hello my names Andrew. I'm an Artist and Designer and I run Bright Stem.
The best way to explain what it is I do at Bright Stem is to understand how I see the world. I'm dyslexic meaning my brain processes 'things' more through images than text. Images don't have any classification or specific meaning unless you assign them one. So my mind naturally jumps from one thing to the next creating webs of interconnected images. The best way to visualise this process is the mind maps I create.
When it comes to creative projects therefore I find it impossible to define what it is I do under any specific discipline. Because one minute I'm working on a small sculpture which easily turns into a children's toy, which just as easily could be a piece of public art, or the inspiration behind a children's book and on and on and on like that.
Therefore Bright Stem was set up to create an environment in which I can naturally function within. Where different things can come into contact with one another allowing ideas to develop across multiple disciplines. It's also somewhere for me to present these different projects alongside one another. Allowing the public to see the connections made between them.
Speaker Number Three: 
Prints by Julz is an eco-conscious design venture by artist and printmaker Julz Marulina. Working from a shared studio, The Belfast Print Workshop, she designs and creates hand-printed fine art, textiles and t-shirts. Prints by Julz brand evolved through a personal quest towards sustainability, and aims to achieve as little negative impact as possible.
Speaker Number Four:
GMMG Design Studio is the multi-disciplinary creative practice of Grace Margaret McGowan, I dabble in many things including model making, sketching, sculpture and film but specialise in Origami. Soon to launch a new range of Origami kits inspired by modular origami and positive mental health.
www.facebook.com/GMMGDesignStudio
​
​Speaker Number Five:
There are two things that I am most passionate about- Belfast and coffee. Add into the mix an appreciation of maps, and you have something! I'm Gareth, the founder of Belfast Coffee Map which launched in May this year, Northern Ireland's first and only pocket sized paper publication featuring 17 of some of our top independent speciality coffee shops; an aromatic guide to our historic and beautiful city. The map not only celebrates our city's burgeoning coffee scene but also its wealth of creative talent and skill, with illustrations by local artist David McMillan bringing it to life. I love our city, and I want to help to sell it to the world.
​http://belfastcoffeemap.azurewebsites.net/
Speaker Number Six:
Blackstaff Games are a games and animation company based in Belfast, Northern Ireland, specialising in original characters and stories. Established in 2014, Blackstaff Games first created DogBiscuit, a creative drawing exploration game aimed at a younger audience. The game was released through Tivola on tablet and mobile in December 2015 and has gone on to receive nominations from the children's TOMMI Awards and the Develop Awards for best new mobile IP. Blackstaff Games are currently working on a number of upcoming titles which will be announced later this year.
In association with Belfast Design Week