#TopTips: LinkedIn for Creatives
Posted: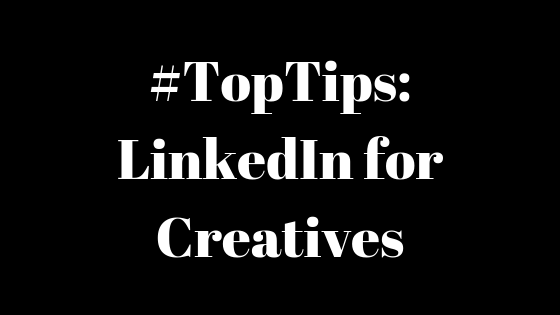 On 23rd May we hosting a LinkedIn for creatives workshop facilitated by Alistair Cameron from Startacus. Here are some of the main things we learnt.
About LinkedIn
LinkedIn is the largest professional network in the world with more than 610 million users in more than 200 countries and territories. It Is a unique platform for connecting and building your network globally.
Functionality
LinkedIn has a lot more functionality than many people realise
–          Sharing articles, photos, videos and opinions on your personal profile
–          Messages and chat for quickly and easily connecting with others within your professional network.
–          Groups – you can join various different groups based on your professional interests
–          Company profiles – you can follow companies or set up your own company to raise its profile, or use this functionality to find individual employees within organisations
–          Voicemail
–          QR codes that can be scanned for easily and simply connecting to others
Using LinkedIn effectively
1. Optimise Your Profile
Your Picture
–          Choose something that represents you
–          Use a professional pic if possible
–          Don't use a company logo (people buy from people)
Header Image
–          Add info to quantify your experience, but make sure it isn't too spammy/salesy
–          Canva is a great tool for creating a professional looking header
Your Profile
–          If you are seeking work its ok to say you are available
–          Make sure you complete your contact info
–          Put a professional work email – preferably a company one or at least a professional sounding gmail address
–          Rank your most important job at the top if doing more than one thing
–          Add testimonials to your profile if you have them on other platforms
Summary
–          This is your personal statement, add in stand out talents, calling card skills, awards etc what makes you stand out
–          Don't list your job description in this section
Recommendations
–          Seek recommendations from people you respect, clients and competitors
2. Update Your Status for Maximum Reach
–          700 – 1200 characters (about 200 words) is the optimum length
–          Don't include external links to platforms outside LinkedIn
–          Post opinion pieces and aim to be seen as a thought leader within your sector
–          Use NI specific hashtags, a maximum of about 5 hashtags
–          Mention people in posts or within the comments
–          Comment back if someone comments
–          Ask people to comment/interact
–          Add your own images
–          LinkedIn loves video as long as it's not embedded links. Use LinkedIn live video but try not to make them too cheesy
–          Don't overshare or spam people
–          Write articles and posts directly on LinkedIn for better reach. Don't copy and paste links from your website and other social platforms
–          Weekends are a good time for posting as there are generally less people sharing content
–          For maximum benefit add updates 1 – 2 times a week, but quality is more important than quantity
3. Successfully Build Your Network
–          Don't blanket connect – you can be reported if you connect to too many people too quickly
–          Aim to reach out and make meaningful connections
–          Follow people and comment on their updates
–          Connect with people on LinkedIn that you have met in a professional capacity in real life
–          Engage with existing connections
–          See who your peers/competitors connect with
–          Don't be offended if people don't accept your connection request or reply to your message