Meet the Team behind Small Town Big Dreams – Graeme Watson
Posted: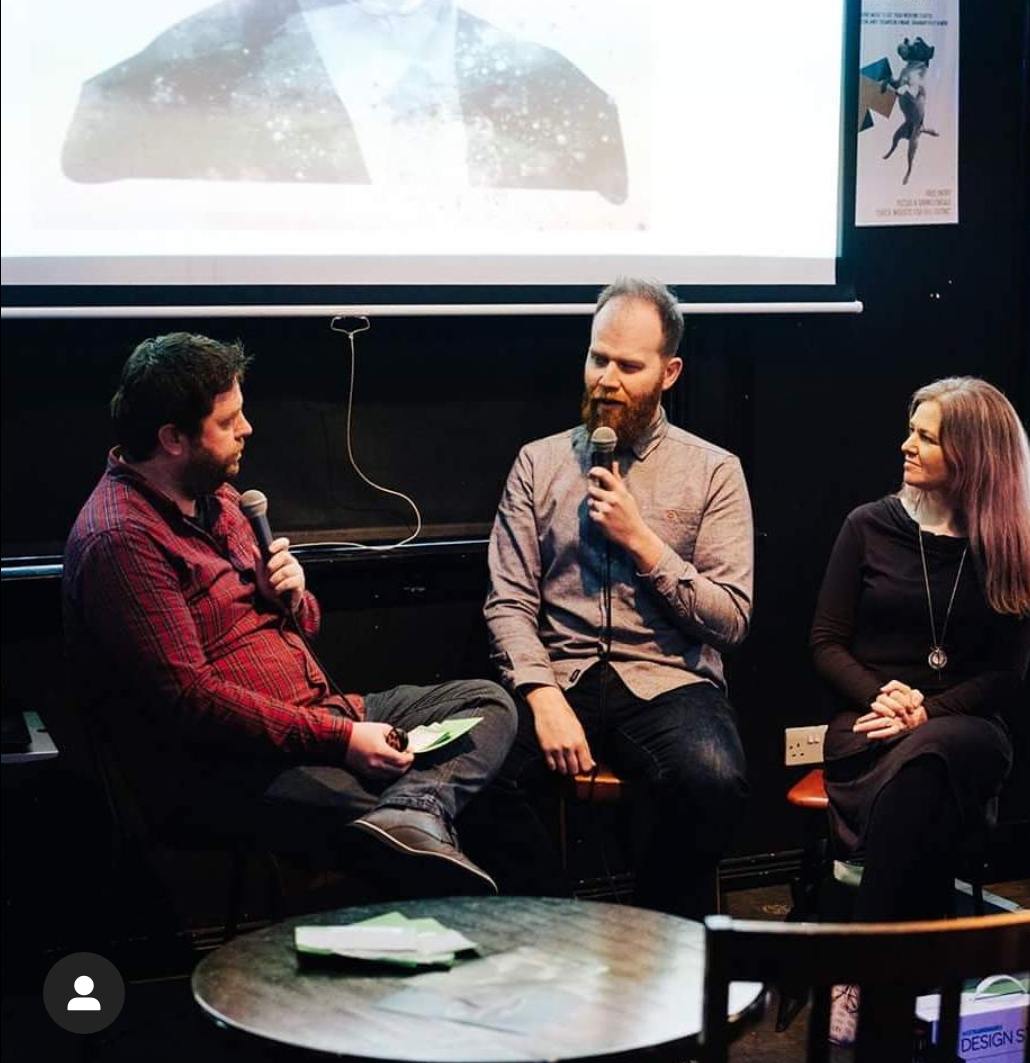 Small Town Big Dreams is a podcast which shares the stories of creative entrepreneurs in Northern Ireland. It was founded in 2018 by Blick alongside Graeme Watson and Karishma Kusurkar it is a collaborative project that we have worked together to develop.
We thought it would be nice for everyone to find out a bit more about the team behind the podcast and their experiences during lockdown and the pandemic. We begin this week with Graeme Watson.
Can you tell us a bit about yourself and what you do?
My name is Graeme Watson, and by day I work in marketing and communications in higher education, but by night, for the past 14 years or so, I've been very active in building the comedy scene in Northern Ireland as a promoter and producer.
You have a background in comedy, what has been the impact of the pandemic within the comedy scene?
Comedy across the UK and Ireland has been hit very hard by the pandemic. From the smallest gigs in pubs to the largest gigs in theatres and arenas, comedy has been 'cancelled' along with live theatre and music. It has been interesting to watch how comedians have responded to this period though – from doing shows on Zoom or Twitch, having more time to concentrate on video or audio content, doing shows in people's gardens, or 'drive-in' shows etc.
So there's been a lot of creative responses, but for the vast majority of people who make a living performing comedy, or promoting it, it will have been an incredibly challenging time in terms of making a solid living.
Are you optimistic about the future of comedy and live performances?
I think comedy will always find a way through a situation like this. One thing that's been interesting in Belfast is that with social distancing and curfews being in place, live comedy is now seen as being one of the only viable forms of entertainment for a Friday night. This wasn't the case before the pandemic, because a disco or live music was seen as a more profitable option. Whether this is unique to Belfast I'm not sure, but in the long term comedy will recover.
That said, I suspect the pause will also act as a kind of watershed moment for some performers and clubs, who may decide to pack it in or not re-open. So I think the comedy scene after the pandemic subsides will be quite a different place from the one before it.
What kind of changes do you think the pandemic will bring to that sector?
It's very hard to predict – I suppose the thing we haven't got our heads round yet is how long the restrictions might be in place. Many of the public health people strongly hint that we will be living with this virus for a long time. So if the virus remains a high threat to public health for the next 3 or 4 years, for example, at the minute it feels like night life of all kinds is going to be the most heavily restricted. But for how long? That's the big question really – I think most people in live entertainment are thinking they can just about survive until the Spring, but if there is no end in sight then I think this sector will be in the bleakest despair, quite frankly.
What about your own creative work, how has it been impacted by the pandemic?
Well, strangely, as I turn 40 this year, I had decided to take a bit of a sabbatical from running events to take stock and get re-inspired and re-energised. I had been getting used to sitting in more at night (and thinking how strange it felt), only to then be thrown into the situation of doing nothing but 'sitting in' for 4 months. So if anything it just turned my year of reflection into something even more intense! I wanted a year that was a bit different, and that's what I got…
I suppose I didn't really have a creative plan for this year, but I definitely wanted to develop more audio projects, so making The World Turned Upside Down was a great opportunity to really stretch my ambitions and abilities on that front. I also produced and edited a short story podcast with an author friend, called Inside John Patrick Higgins. That has been fun and interesting to do as well.
How was the lockdown for you?
Looking back, I think for sure at the start it was very strange and a little bit scary initially. It came all of a sudden, and was such an unimaginable scenario – everything being shut down and being told to stay at home, in a very short space of time. I felt very lucky to have been in a secure job that I could carry on doing at home – if I had gone into promoting comedy full-time as I was once planning to, I think this would have been a total catastrophe for that business, even if it was ticking along reasonably nicely.
The thing that I appreciated about lockdown was being able to spend more time in my home and appreciate it, and just the opportunity to slow down and get a bit more organised domestically and think about daily routines and exercise and things like that. It was really back to basics, wasn't it?
What was the biggest change to your life?
I'm not sure I have an answer to that yet! There have been lots of changes, but I'm not sure which are temporary and which might be more long-lived!
Any changes you are planning to make to your life long term?
It feels dumb to say this, but there are definitely healthy daily habits that I developed during lockdown that I would like to keep as normality resumes. It's easy to live very reactively when you are very busy all the time, rushing from one thing to the next, but I felt it gave me the opportunity to take a breather and get a bit more control, and maybe use my time better too.
What did you find most challenging?
I live on my own, which I guess other people would find challenging, but I'm sure it was much more challenging to be looking after children and other people during all of this. The most challenging thing was definitely just not being able to see family and friends. Sometimes I think this current period is actually worse, because although you might be working, the things in life that give life enjoyment and make work-life tolerable are severely restricted. I think that will be a difficult thing to sustain.
What kept you sane during this period?
Making the podcast definitely helped! I am a firm believer in always having a few projects on the go – I think that's how I maintain sanity. Learning new things, even simple things, and having some purpose to your day is the recipe for sanity that hasn't failed me yet. Lockdown was a new scenario in that you had really no idea when it was going to end – so there was no future planning, just day-by-day living, and trying to inject some purpose into the present.
You heard all the interviews in full, what was your biggest takeaway piece of advice or insight from all the interviews?
I was really struck by how people adapted to the situation so quickly, trying to find the opportunities in it, despite dealing with what I'm sure was quite devastating consequences of lockdown for some. I think Sean Duncan from Redcap Productions said something quite insightful about this being a 'shared trauma' that we've all experienced. I think that's what's so unusual about it – so many people on earth have experienced this strange purgatory, this strange hell, but we've all experienced it in ways that are utterly unique to our personal circumstances. In that respect, this moment in history has changed all of us quite profoundly in some way or another.
Finally what are your plans for your creative work in the future and how can people find you online?
For the moment my interest is definitely in writing and creating more interesting audio projects, so I think I will find a way to experiment with that in different ways.
People can find me online on Instagram at @graeme_theory, or on Twitter at @graeme_watson.
You can find out more about Small Town Big Dreams and listen to all previous podcast episodes  and episode 1 of Small Town Big Dreams new audio documentary 'The World Turned Upside Down' on the impact of the pandemic on creative entrepreneurs in Northern Ireland here: https://www.smalltownbigdreams.co.uk/