Elmer's Big Belfast Trail an Interview with Hannah Griffin
Posted: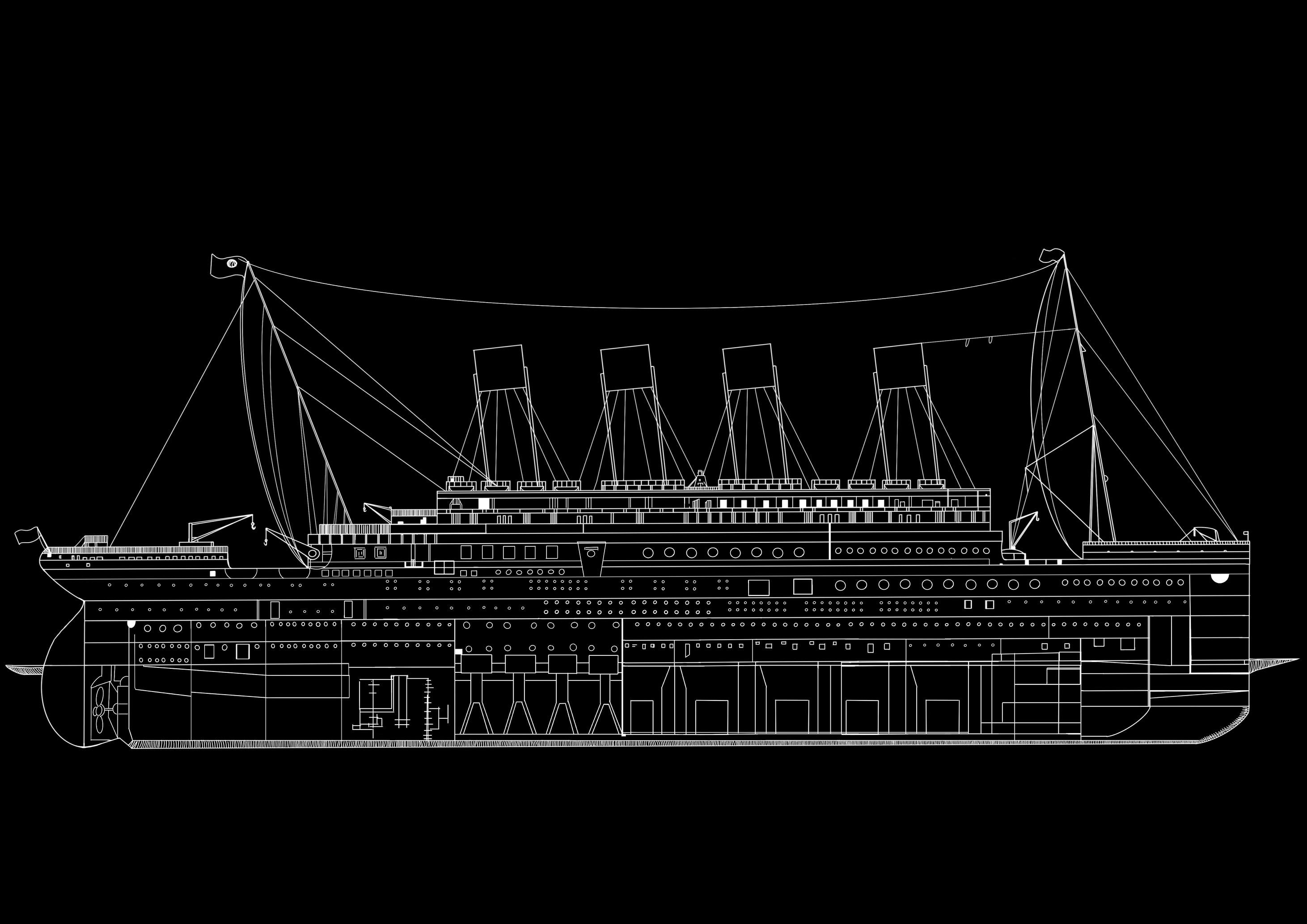 Earlier this year we had the opportunity to support Belfast illustrator Hannah Griffin with space to paint an elephant as part of Elmer's Big Belfast Trail  which is on display throughout Belfast until the 31st August. The free, family-friendly art trail – a collaboration between Northern Ireland Hospice, Wild in Art and Andersen Press, brings David McKee's popular children's character Elmer the Patchwork Elephant to life. Here we catch up with Hannah to find out more about the project.
Can you tell us a little about yourself?
A little about me, I am an illustrator who graduated from Ulster University in 2021. I specialised in graphic design and illustration for a year each. I finished my final year in lockdown to say the least; It was an experience, however, it allowed me to learn how to format my art for a digital platform. In my final year I fell in love with presenting mythology, symbolism and telling a story through linework. I adore creating work that blends different stories and subjects together as well as tackling new formats.
Now can you tell us a bit about your Elmer statue?
Now, about my Elmer statue! He is called Cecil after the man who drew the original titanic blueprints; Cecil Arthur Allen. I was looking for briefs to apply to, when I came across the Elmer Big Belfast Trail, an amazing opportunity to create a fun tourist attraction while supporting the NI Hospice. I submitted 2 designs, I wanted them to be quintessentially Belfast. The first was based around Botanic Gardens, which is definitely "quintessentially Belfast" for people from here. Naturally, when I wanted to make something more recognisable for people from Belfast and from further afield, Titanic became the central subject matter for my second, and winning, design.
Once I was settled on my subject matter I had to decide how to blend a patchwork elephant with the theme of Titanic. During my research I came across the titanic blueprints and fell in love with the idea of turning this into a clean chopped up mechanical patchwork. On a personal note I enjoyed this combination of the representation of a textile with something mechanical as my Mum is a Fashion designer and my Dad is an engineer, it almost made it feel like it was 'meant to be'.
I created my design by first drawing the ship digitally, then chopping and changing parts of the design round on to a blue patchwork using the Procreate app. I decided to create my design digitally because this would act as my guide when it came to the actual physical render on the sculpture, so precision was a very important aspect.
Learning to paint on such a large and curvy surface was very new, but interesting as my design was made so flat and square I had to allow for some minor changes in the design. Each patchwork square had to be very clean and line up perfectly. I had to masking tape every edge of each square and every shade of blue was individually mixed.
When it came to the line work I thought that I would need to use a stencil or a projector, something to map out my design, but at this point I was so familiar with it I was able to just look at my design and draw it on by eye while using a bendable ruler or piece of card for the longer straight lines.
As I worked my final year of university in lockdown, I am use to working alone in my own space but Blick studios was an incredible opportunity to enjoy the support and feedback from professional artists, it was a very easy and welcoming place to settle into and I couldn't be more grateful to be supported by such an amazing team of people.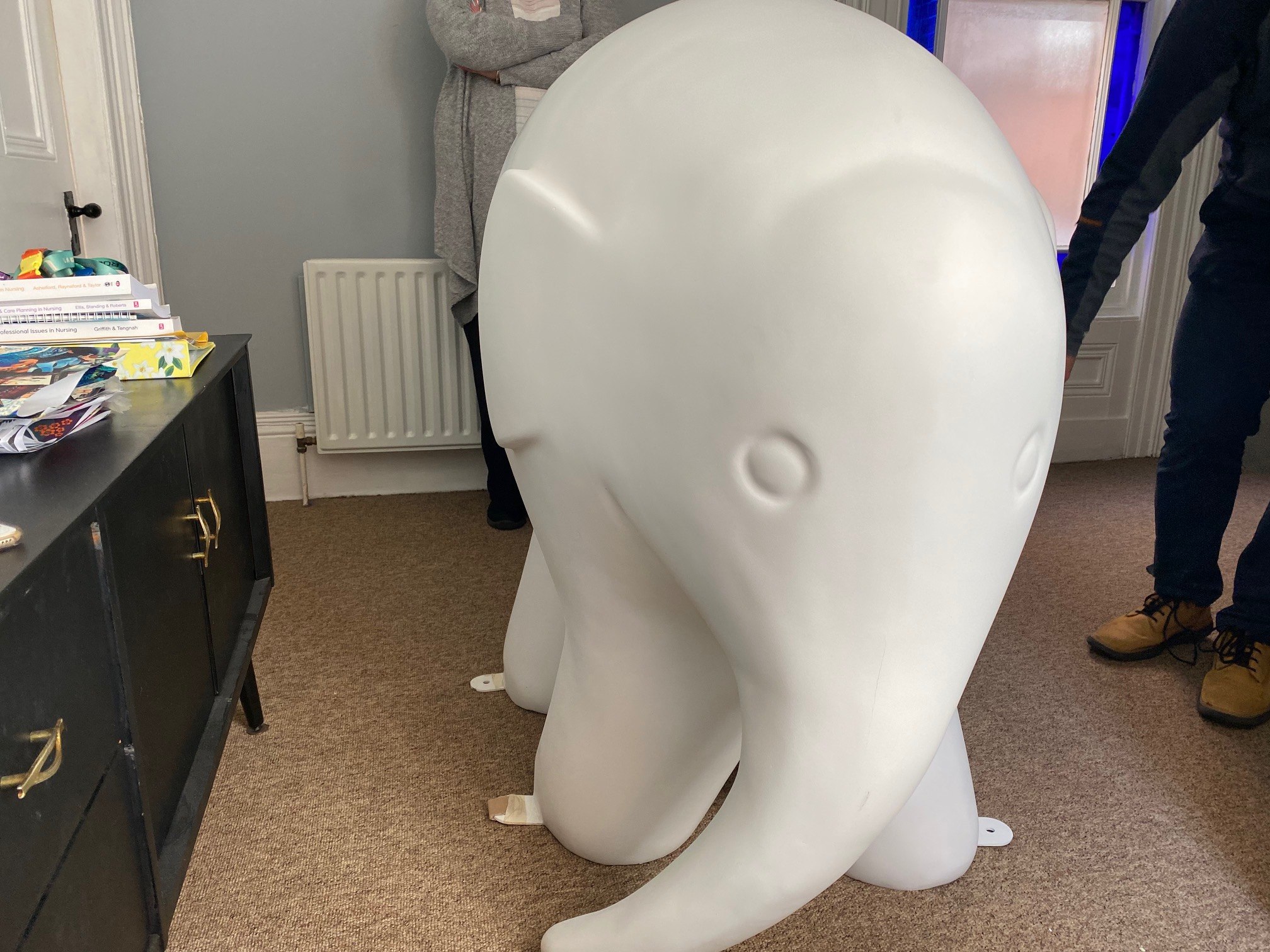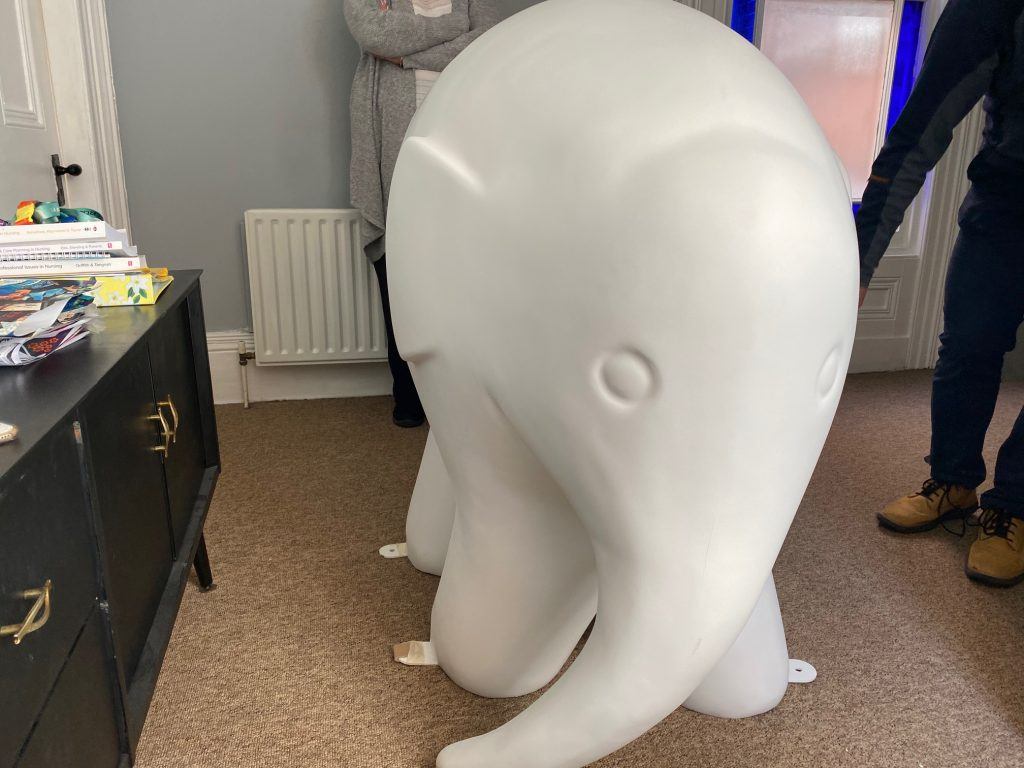 Where can people see your finished Elmer statue?
Cecil is now sitting at the Titanic slipways, he has some of his herd scattered around him. the Elmer HQ is at Castle Court, the best place to start the trail is here, you can get a map, they will help you download the app so you can mark off the Elmers you have seen and they have the most amazing Elmer merch, with all proceeds going to the NI Hospice. The herd will be in Belfast from the 20th June to the 31st August. After this they will be moving to Derry for 2 months before an auction for each little elephant will happen.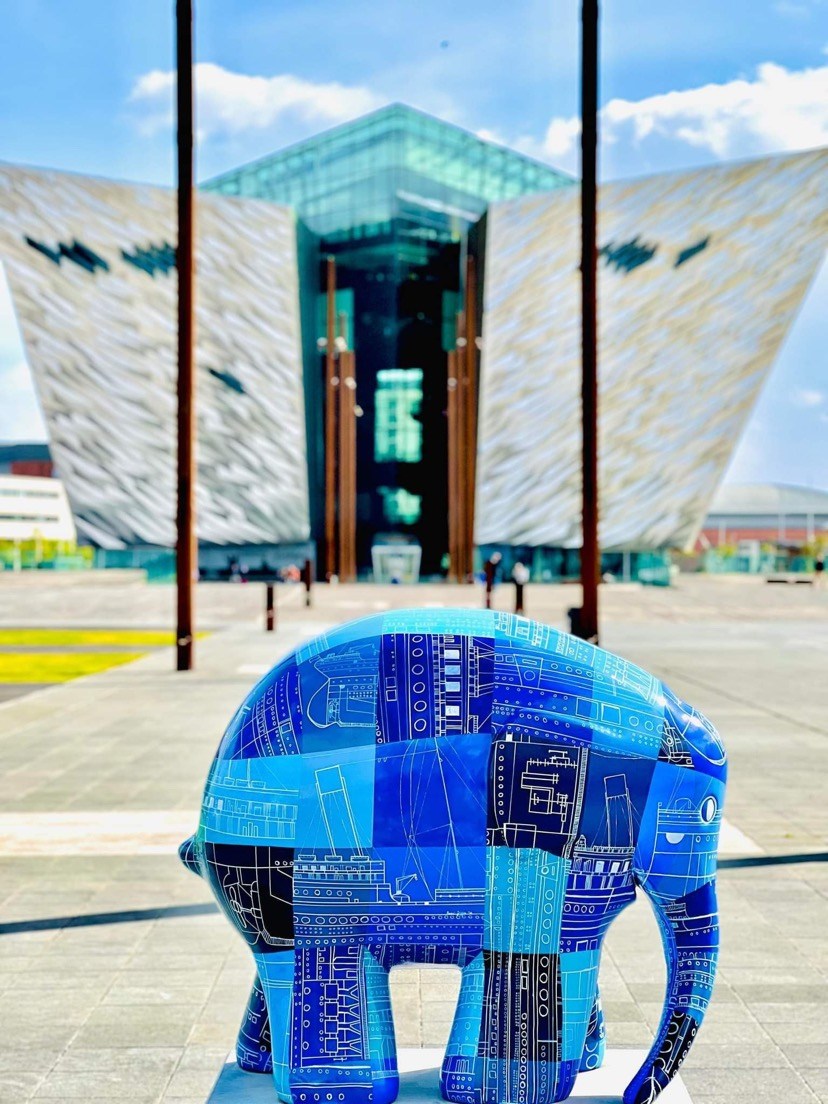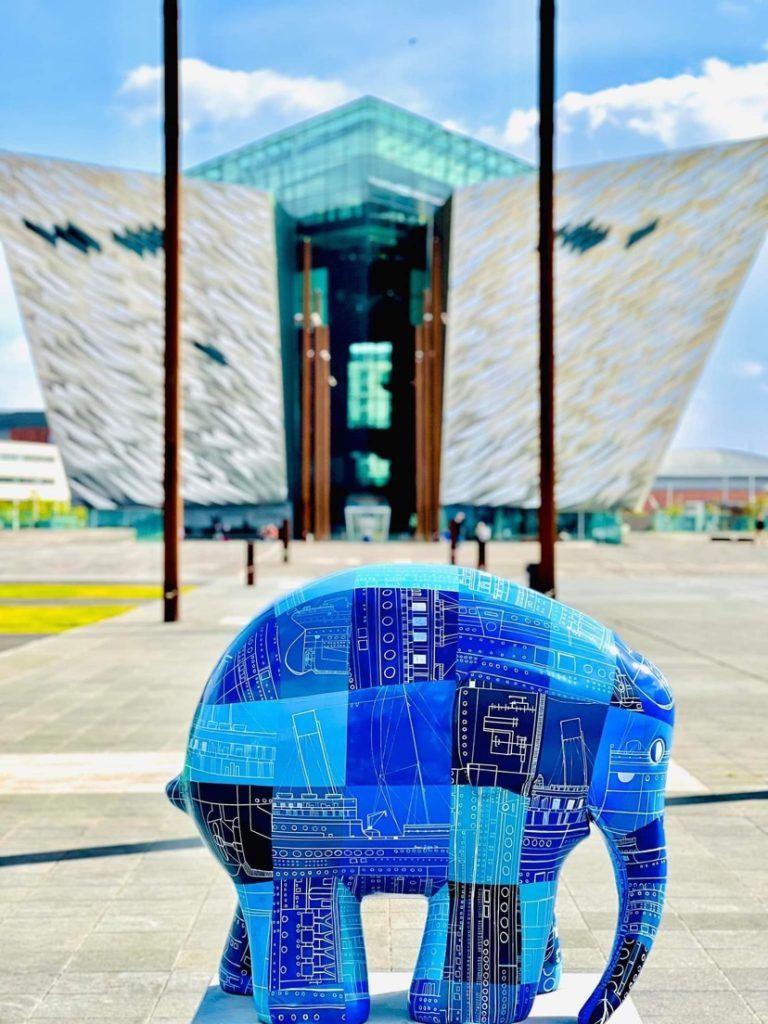 Finally, where can people find you online?
Website: https://www.griffinillustration.co.uk/