Creative Roundup – Meet our Neighbours Cotton Court, HMRC's Creative Industry Tax Unit, Churchill Fellowship, East Block Bazaar, Write a 60 Second Pitch & Jamie Reid Exhibition
Posted: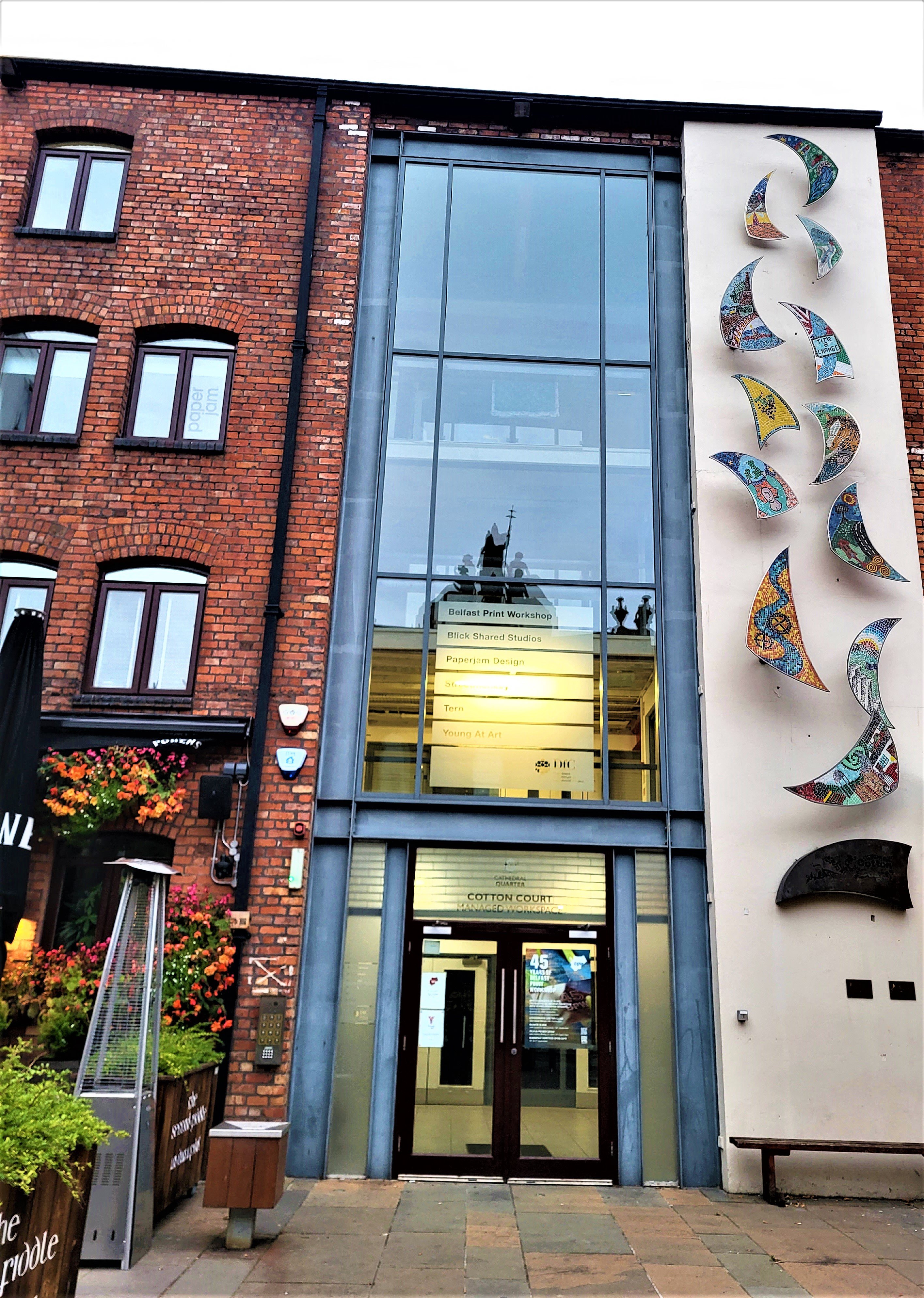 Here are some of the things we think NI creatives might find interesting or useful this week
INSPIRATION
MEET OUR NEIGHBOURS COTTON COURT
This week we thought it would be nice to highlight Cotton Court a converted warehouse and previously cotton mill and the location of one of  our Cathedral Quarter studios and a creative hub in its own right in the heart of Belfast's Cathedral Quarter. You can find out a bit about the history of Cotton Court on our website. As well as our studios Cotton Court is home to other creative businesses and organisations including Belfast Print Workshop which offers amazing printing facilities on a membership basis as well as a whole range of different classes, events and activities. Belfast Print Workshop are currently celebrating 45 Years with an archive exhibition on until 30th September and a variety of workshops. Young at Art are also based in Cotton Court. They are Northern Ireland's leading arts provider for children and young people and home to the flagship Belfast Children's Festival (4-13 March 2022). There are also some other creative businesses located in the building and it is right opposite one of the prettiest buildings in Belfast City Centre, The Merchant Hotel, making it a lovely place to work.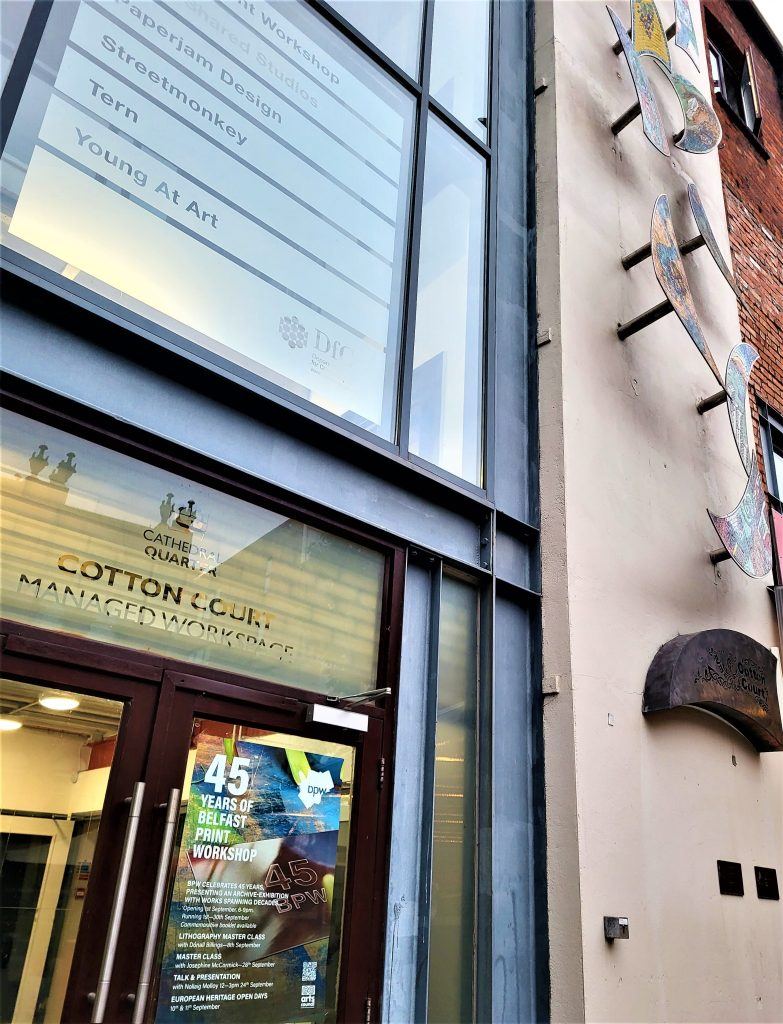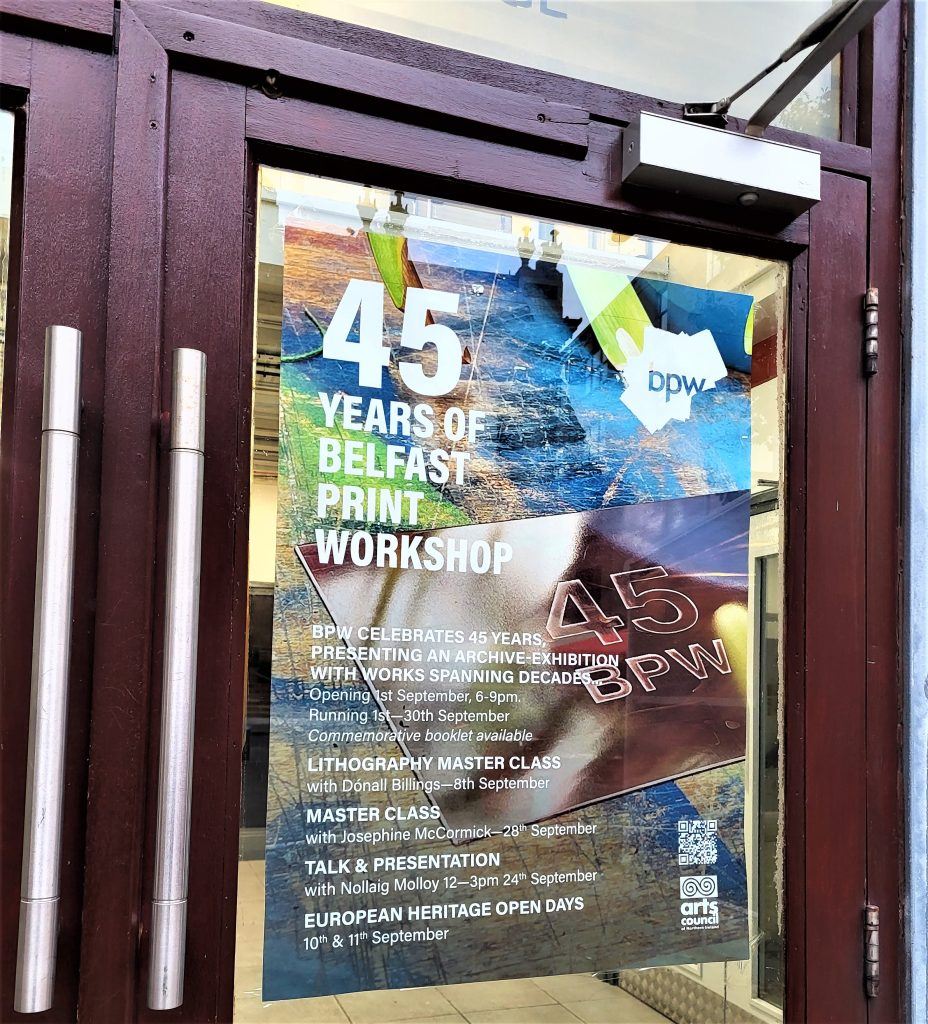 ---
FUNDING, SUPPORT & RESOURCES
FUNDING
THE CHURCHILL FELLOWSHIP
Have you ever wanted to make change happen in an issue you care passionately about? Explore new solutions with the world's leading professionals? A Churchill Fellowship is a once-in-a-lifetime opportunity to lead the change you want to see.
They will be inviting applications for research to be undertaken in 2023 and beyond. In addition, they will be launching six new themes for Fellowships in topical issues:
Arts and communities.
Caring for our natural environment.
Children and young people with experience of care.
Climate change.
Resilient economies and communities.
Tech for all.
They will also be inviting applications within the following existing themes:
Education in schools.
Palliative and end of life care.
Physical activity for healthier lives.
Rural communities.
Suicide prevention, intervention and postvention.
DATES: Open for Fellowship applications in 2022 from 13 September until 22 November at 5pm
SUPPORT
HMRC'S CREATIVE INDUSTRY TAX UNIT AND THE BFI CERTIFICATION UNIT
Northern Ireland Screen are delighted to announce that colleagues from the HMRC's Creative Industry Tax Unit and the BFI Certification Unit will be holding an information day on video games, animation television, children's television, film, high end television drama and theatre tax reliefs. There will be two information sessions in the morning covering how to qualify a project as British under the relevant cultural tests or as an official co-production to access the respective tax reliefs, and how to claim the tax reliefs followed by a Q&A. To book your seat at the morning session please email shaun@northernirelandscreen.co.uk. In the afternoon there will be bookable 1-to-1 sessions to allow you to ask project specific questions to the team. To book a 1-to-1 session please email shaun@northernirelandscreen.co.uk and state which of the creative sector tax reliefs you wish to talk about. The 1-to-1 sessions will be allocated on a first come first served basis.
LOCATION: Ormeau Baths
DATE: Wednesday 28th September
TIME: Various
---
EVENTS
EAST BLOCK BAZAAR
Creative market in East Belfast
DATE: Sunday 25th September
TIME: 1pm – 5pm
LOCATION: Banana Block Belfast
AN ULSTER PRESENTS EXHIBITION – TAKING LIBERTIES
Jamie Reid's Political Work 1970-2020
The artist Jamie Reid is an iconoclast, anarchist, punk, hippie, trouble-making rebel and romantic.
Ulster University's new art gallery on York Street presents its first exhibition – Taking Liberties! The political work of Jamie Reid from 1970 to 2020.
Infamously and eternally connected with the Sex Pistols and the DIY ethic of punk, Jamie Reid's image-making has equally, over the decades, been at the centre of activist movements.
Taking Liberties! features posters, banners, drawings and collages designed by Jamie Reid with the express purpose of viscerally grabbing the public's attention, increasing awareness of campaigns for social justice from the 1970s to today – against the Poll Tax, English heritage and colonialism, Clause 28 and the Criminal Justice Bill and promoting the work of Pussy Riot, Occupy London and Extinction Rebellion.
Taking Liberties! is a rare opportunity to see some of Jamie Reid's original works that not only established an entire counter-cultural visual aesthetic for the late 20th Century but also continues to be central to protest movements today.
DATES: 26 Sep 2022 – 26 Nov 2022
LOCATION: Ulster University Art Gallery, York Street.
WRITING A GREAT 60 SECOND PITCH
If you haven't got a clear 60-second pitch, you could be missing out on opportunities to grow your business every day. Even in such uncertain times, you never know when the opportunity to support others may arise, so it is important to be able to explain your business quickly and simply.
Join the Business Builder team as they break the 60-second or 'elevator' pitch down into its component parts. You'll come away with a clear understand around what to put in and leave out and how to structure for maximum impact. They will give you all the tools, tips, and hints for you to crack on with writing a pitch you're confident in and proud of straight away. They will also share some great practical tips when pitching to an audience of 1 or 100.
This is a Zoom webinar – details will be sent following registration.
DATE: Tue, 27 September 2022
TIME: 13:00 – 14:30 BST
LOCATION: Online