Creative Roundup – To Make a Monument Exhibition, CQAF Creative Bursaries, Creative Debuts Black & Working Class Creatives Grants, Belfast Film Festival, Innovation, Branding, Viral Justice & Art Direction Events
Posted: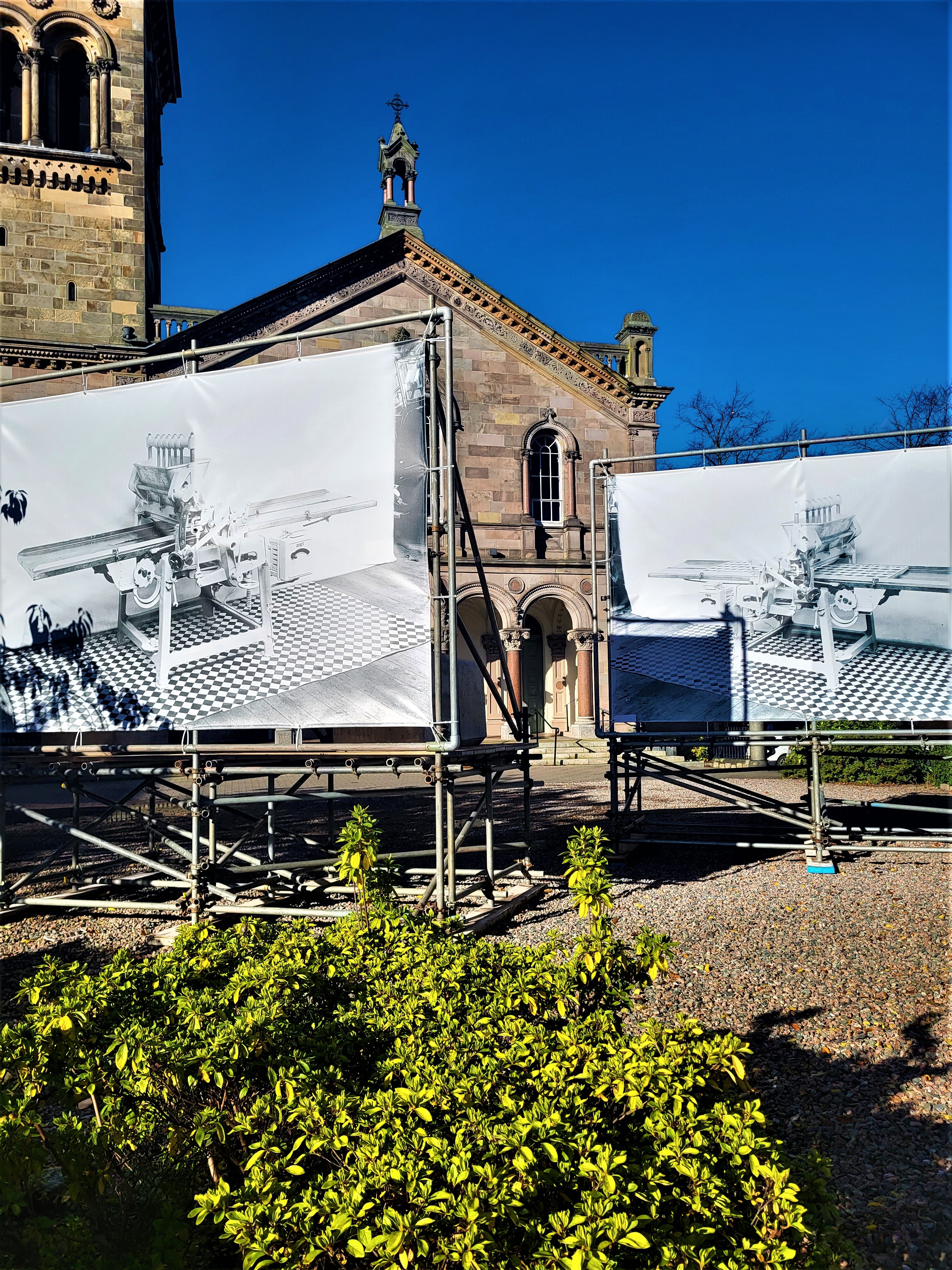 This week we have highlighted some funding opportunities and bursaries and different local and international events we feel creatives might find useful or interesting
INSPIRATION
EXHIBITION: TO MAKE A MONUMENT
One of the lovely things about the location of our Malone Studios is how close it is to Queen's University, the location of this wonderful exhibition making vewing it a lovely lunchtime activity. This exhibition To Make a Monument is a new project by artist Jan McCullough produced in collaboration with Household that explores untold acts and histories of labour, care and maintenance; fabrication and DIY; and the communities that form around them. To Make a Monument is part of the Belfast International Arts Festival with installations across Queens University Campus: Outside Elmwood Hall (University Road), Whitla Hall (University grounds), The Graduate School (Queen's University
---
FUNDING, SUPPORT & RESOURCES
FUNDING
CQAF CREATIVE BURSARIES
CQAF has presented the best in local and international art, music and performance over the last 23 years. They are delighted to initiate a scheme which allows artists, writers and performers to develop new work for their festival.
They have established four creative bursaries to support and encourage new work by visual artists, comedians, musicians and theatre practitioners based in Northern Ireland.
This project has funding support from Perspective Economics and the Arts & Business NI Investment Programme.
DEADLINE: 5pm. 11th November 2022
CREATIVE DEBUTS BLACK ARTISTS GRANTS
The Black Artists Grant (BAG) by Creative Debuts is a no-strings attached financial support to help Black creatives based in the U.K.
This grant has been set up because Black artists are systematically under-supported by the art world; by institutions, curators, the artist-led scene, major and minor funding bodies, the market, art schools, and by audiences.
CREATIVE DEBUTS WORKING CLASS CREATIVES GRANT
The Working Class Creatives Grant (WCCG) is offered by Creative Debuts in collaboration with their partners and the grant selectors The White Pube.
The grant is a no-strings attached financial support to help U.K based creatives of all ages and has been set up in response to the cost of living crisis. Each month one recipient will recieve £500 to spend however they like.
RESOURCES
VIMEO X MARKETING WEEK
The attention grab series for marketers. The webinar series provides marketers with creative solutions for how to capture, keep, and convert audience attention in their marketing content.
In Part 3 of Vimeo's Attention Grab Series experts will discuss how you can convert your audience's attention into action with Interactive Video. Evidence-based marketer Thomas McKinlay, Founder of Ariyh, and Vimeo's Interactive Video expert Marissa Ke will discuss proven strategies
---
EVENTS
BELFAST FILM FESTIVAL
22nd Belfast Film Festival
DATES: 3 – 12 November 2022
SWITCH: BELFAST
Great for your pocket and the planet!
Find some new-to-you clothing at Switch:Belfast Thrift Night at the MAC on 3 November in association with Alliance for Choice and Environmental Éadaí.
How does it work?
It's simple – buy a ticket for £8. This entitles you to take five items on the night until 8.30pm. After 8.30pm, you can take more items if you like. This ensures everyone gets a chance to find something great!
DATE: Thursday 3rd November
TIME: 19.00PM
COST: £8
VIRAL JUSTICE – THE BIG IMPACT OF SMALL CHANGE
How can we transform society through the choices we make every day?
Small change can have a big impact on our lives. Through knock-on effects and cumulative action, little shifts have the potential for great harm and great good. And when it is easy to feel overwhelmed at the scale of change needed to solve big, structural problems, we need to recognise the value of practical change we can enact on a daily basis.
In recent times, the twin plagues of Covid-19 and anti-Black police violence have caused Ruha Benjamin to rethink the importance of these every day, individual actions across our lives and societies – from the impact of the chronic stress of racism and inequities in our healthcare system to the power of community organisers who are fostering mutual aid and collective healing.
Here at the RSA, Ruha Benjamin will demonstrate the impact of these micro-changes, drawing on her personal experience and professional research on race, technology, and justice. Alongside the chair of the discussion, Mandu Reid, leader of the Women's Equality Party, Ruha will offer an inspiring and practical vision of how seemingly minor decisions and habits can spread virally and have exponentially positive effects.
Speaker: Ruha Benjamin, writer, speaker and professor of African American Studies at Princeton University
Chair: Mandu Reid, Leader, Women's Equality Party
DATE: Thursday 3rd November
TIME: 13.00 – 14.00PM
LOCATION: Online
BRANDING FOR FOUNDERS: HOW TO SUCCESSFULLY REBRAND
Every business will need to rebrand at some point. But it's often an overly complex process. Discover a proven and simpler way to rebrand.
DATE: Thursday 3rd November
TIME: 2.00 – 3.00pm GMT
LOCATION: Online
GROWTH NORTH WEST – GROWTH THROUGH INNOVATION: PROBLEM PRIORITISATION AND IDEATION
If you were asked to do something innovative, what would you create? Is there a problem that needs to be solved? Ester Dyson summed this up in her contribution to a short article in Harvard Business Review: "Don't innovate, solve problems"
Choosing the right problems to address is key to the success of any innovation.
During the Covid-19 pandemic many organisations looked at how they could continue to operate and serve their customers in restricted lockdown environments, such as restaurants offering takeaway or cook at home recipes, blind companies making face shields and PPE and engineering firms creating ventilation units for hospitals – all of which solved problems.
Problem Prioritisation and Ideation
This workshop will equip you with:
1. The tools to help you to identify which problems you want to solve to generate more ideas and more optimal solutions both for your business and your customers.
2. The techniques to narrow down your ideas to the most viable options that you can take forward to develop within your business
3. The support available to help you move forward
DATE: Tuesday 8th November
TIME: 10:00AM – 1.00PM
LOCATION: Invest NI North West Office
ART DIRECTION & BRAND PHOTOGRAPHY WITH PAM LAU
Learn in the field with photographer Pam Lau as she shares walks you through shooting a brand or commercial project from start to finish.
This workshop will cover a variety of concepts including:
How to work directly with clients when there's no agency as an intermediary and you're expected to lead the vision and bring your expertise
How to assume multiple roles (ie. art director, producer, casting director, and stylist) when you don't have the budget to bring on an extensive team
How to be scrappy, utilizing backwards creation and your existing resources to bring a concept to life
Client consultation; important questions to ask and factors to consider, tips for negotiation
Pitching a concept to a client through researching how visual style can align with their brand
Pam's approach and creative process to adapting on the fly during shoot day
Tips for directing and coaching your subjects and models to achieve the results you're looking for
Q&A session
About Pam Lau:
Pam Lau is a photographer and educator based in Toronto and Montréal. Recipient of the Applied Arts Young Blood Photography Award and named a photographer to watch in a 500px spotlight on Asian Heritage Month. Co-founder of Ecru; a grassroots educational initiative for those facing cultural, financial, and institutional barriers to entering creative industries. Past clients include PUMA, American Express, General Motors, Microsoft, Shopify, VICE, Refinery29. Ambassador for Canon Canada.
Who's this workshop for?
Emerging visual artists. Samples discussed focus on photography, however the business practices covered are applicable to multiple disciplines
Current freelancers in adjacent fields such as wedding or events interested in taking on more commercial work
Full-time visual arts workers wanting to transition to freelancing
Digital creators looking to tighten up their pitch for brand partnerships
This workshop will be valuable for anyone looking to take their photography to another level, specifically as it relates to brand photography, editorial, commercial, and fashion. Whether you're a photographer, videographer, digital creator, model, blogger, or just getting started on your creative journey, these workshops provide an opportunity to connect with others in the community and learn something at the same time.
DATE: Wednesday 9th November 2022
TIME: 5pm PST / 8pm EST
LOCATION: Online
INNOVATION AFTER HOURS WITH MICHAEL STEWART
Join the Graduate School at Queen's for Innovation After Hours on Thursday 10th November at 5:30pm.
The Innovation After Hours event series provides an opportunity to network with like-minded people and to be inspired by innovative and entrepreneurial guest speakers who are working on interesting ventures. It's a casual meet up, with food and beverages open to QUB students, staff and the general public.
In November, they are delighted to have one of Northern Ireland's most successful hospitality operators, Michael Stewart, as their guest speaker. Michael will discuss his career in hospitality which spans more than three decades and provide leadership and entrepreneurial insights from his journey.
About the Speaker
Michael Stewart has over 36 years' experience in hospitality which includes leading roles in some of the city's most successful bars and clubs.
His portfolio includes roles at Lisburn Road venue Bob Cratchit's, Botanic Inns Group, the former Ultimate Leisure's Bamboo Beach Club, Irene and Nan's, Bar Bacca and La Lea, the Potthouse and The Advocate. He then went on to run House Belfast hotel, bar and restaurant, with business partner Alan Clancy on Botanic Avenue – which occupies the former site of Madison's.
Today he is the Director of Common Market – the street food market, function space and bar located in Belfast's Cathedral Quarter and is the Past President of the Belfast Chamber.
Michael also has his own firm Bar Czar, a consultancy and training business for the trade offering services such as security training.
DATE: Thursday 10th November
TIME: 17:30 – 19.00 GMT
LOCATION: The Graduate School, Queen's University University Road Belfast BT7 1NN
WEBSITE